TURKEY HUNTING
VIDEO/HUNTS FOR 1999
BY
DEREK FOWLER
MARCH 20, 1999 VIDEO HUNT #1
LOCATION: JASPER COUNTY, PRIVATE LAND
PARTNER: MATT GOOLSBY
CALLS USED: ROHM SLATES, DOUBLE TROUBLE CUTTER DIAPHRAGM
DESCRIPTION OF CALLS: YELPS, CUTTING, CLUCKING, PURRING
DESCRIPTION OF HUNT: AM HUNT CALLED IN ONE HEN, SAW GOBBLER AND ANOTHER HEN

It was opening day and I thought I'd try a new area with a new partner. Matt Goolsby, a fellow worker and good friend had asked me to hunt on his farm with him on opening day. We arrived at his property in plenty of time on opening day and were completely set up before good daylight. As soon as it was time they began gobbling and were directly behind us. This was not a good position as I had historically proven, but we were overlooking a nice pasture and had the sun directly behind us so we stayed put. One of the gobblers appeared to be on the move so I stopped calling and chose not to let him pin point us since we obviously needed him to circle and get in the pasture. After a while I decided to cutt and get him to give his location away. He did and had moved farther away. Shortly after that there was a war of shots and the woods became quiet. Well, we felt there were more gobblers in the woods, so we relaxed and let everything settle down. After a while another bird behind us gobbled again and we sparked to life. Although he never showed, we later saw 2 hens enter the end of the pasture to our left. As I was watching them and had started videoing, Matt quickly informed me that a gobbler was coming straight for us directly the pasture. It was a nice bird and he was strutting for all he was worth. One of the hens was making her way toward us and the other toward the gobbler. I wasn't sure how this would end up, but I didn't have a good feeling. The hen held tight to our decoys and did quite a bit of yelping for about 15 minutes. The gobbler was love struck with the other hen and was not about to leave her side and she wasn't interested in coming to the other hen either. They fed for about 30 minutes before exiting the pasture. We hunted a while longer and left with anticipation of returning for the afternoon hunt. Upon returning at about 4:00 we were somewhat late. As we approached the pasture, the gobbler was already there. We backed away and tried to call him from down the road but were unsuccessful.
MARCH 25, 1999 VIDEO HUNT #2
LOCATION: BALDWIN COUNTY, PRIVATE LAND
PARTNER: TOM UMLAND
CALLS USED: ROHM SLATES, DOUBLE TROUBLE DIAPHRAGM, FOWLER GOBBLE TUBE
DESCRIPTION OF CALLS: YELPING, CUTTING, CLUCKING, and GOBBLING
DESCRIPTION OF HUNT: EVENING HUNT CALLED TO NICE GOBBLER AND 10 HENS
Tom and I decided try to get his first bow kill early before the birds got call shy. We set up at his "honey hole" with what is always better than average odds. After a very rainy day, the weather finally seemed to be breaking and we knew it would be the making of an excellent afternoon in the pasture. After an hour of calling we were surprised that no response had come, not even a sight of a hen. I continued to glass the pasture and finally saw them - 10 hens and a nice gobbler. Boy, was this going to be tough. Actually we felt we would be satisfied just to watch and enjoy the scenery. The birds made they're way across and in front of us on their way to roost. They're closest point would make them about 150 yards away. At that point I thought my calling might just lure the hens in. As they moved toward us and behind a hill in the pasture, we thought surely they were coming. Tom began to have second thoughts. How was he going to draw the bow with 11 pairs of eyes to contend with? Well, it never was to be since the next spot we saw the birds was at about 200 yards below us as they neared their roost site. Well it was an interesting evening to say the least and some fair video.
MARCH 27, 1999 VIDEO HUNT #3
LOCATION: TWIGGS COUNTY, PRIVATE LAND
PARTNER: HAROLD FOWLER
CALLS USED: ROHM SLATES, DOUBLE TROUBLE DIAPHRAGM AND FOWLERS GOBBLE TUBE
DESCRIPTION OF CALLS: YELPING, CUTTING, CLUCKING, GOBBLING, FIGHTING PURRING
DESCRIPTION OF HUNT: AM HUNT, CALLED IN 2 LONGBEARDS NO VIDEO!
Well, after several unsuccessful hunts, Dad and I decided it was time to get the season started. We thought that after the mistakes we made the year before that this time we could avoid a repeat occurrence. It was almost as if the chapter was being rewritten. We had four gobblers in two locations and they were all in front of us across a power line. Well, this time we wouldn't have to contend with them coming in from behind us, we thought! WRONG! The two hottest gobblers crossed the power line well above us and circled in behind us. We contemplated crossing the power line and turning around, but this would probably spook the other two gobblers, which by now had stopped gobbling entirely. We also contemplated forgetting the video and turning around just to kill a bird. Well, we didn't and both gobblers came to within 20 yards behind us before deciding that this was not the place to be. This was almost a complete re-write of last year's hunt at the same place. It just doesn't seem that these birds like to be videoed. Well, wait 'til next year, I think the camera might just stay in the truck!
MARCH 28, 1999 VIDEO HUNT #4
LOCATION: BALDWIN COUNTY, BALDWIN HUNTING CLUB
PARTNER: ALONE
CALLS USED: ROHM SLATE AND DOUBLE TROUBLE DIAPHRAGM
DESCRIPTION OF CALLS: YELPING, CUTTING, AND CLUCKING
DESCRIPTION OF HUNT: MORNING HUNT, CALLED IN 1 GOBBLERS / MISSED
Well, with one blunder behind me I hoped I would have that over with. I decided to hunt a food plot on my hunting club in Baldwin County. I set up with the camera with the intent to leave it and go to a bird if I had to without it. At first light a bird gobbled far in the distance and after a short while the bird I was hunting gobbled at about 300 yards. After he flew down it appeared that he was farther than I thought and across a small creek so I decided to move and re-set up across the small creek. After I had moved about 100 yards toward the bird I could tell that he was too close to the creek for me to position, so I retrieted and stayed at the food plot. Another bird began gobbling across the road and I thought maybe my chances would be better if I just stayed put. Anyway, after an hour there were no shows and all birds except the closest had stopped gobbling and he had begun to gobble less frequently. I had determined the rout that he was heading so I decided to circle and set up without the camera. I positioned myself within 150 yards and began some low yelps. After a couple of series he answered and I could tell had turned around and was headed my way. I had sat in front of a large pine and had only a couple of clear lanes to shoot in the direction he was coming. I finally could spot him at about 75 yards. I had determined my shot would be about 30 yards so I began counting down the distance: 60,50,40... He turned and strutted across in front of me and was about to enter the second shooting lane at 30 yards. With front and rear sights aligned on the red and white head I slowly squeezed the trigger. Just when you think there's nothing that can go wrong, it does. At the gun blast the bird flies off apparently unharmed. As all hunters know, there are not many feelings as low and as frustrating as missing your target especially when everything seems to be in order. I chased in direction the bird went to no avail. I returned to the setup to assess the situation. The shot was 32 yards and apparently was disrupted by quite a bit of sagebrush and briars. "But still I could see his head and neck", I thought. I returned to our camp house to pattern my gun - again! The #5's were patterning a little low in the 3 1/2 Mossberg so I tried some #5's of a different brand and got somewhat better results. At least I satisfied myself why and what may have caused my misfortune. Peace of mind for the moment yet still another blunder in my turkey hunting adventures.
APRIL 02, 1999 VIDEO HUNT #5
LOCATION: JASPER COUNTY, PRIVATE LAND
PARTNER: ALONE
CALLS USED: ROHM SLATES AND DOUBLE TROUBLE DIAPHRAGM
DESCRIPTION OF CALLS: YELPING CUTTING, CLUCKING
DESCRIPTION OF HUNT: AM HUNT CALLED IN 2 GOBBLERS SPOOKED
OK, OK, what do you do when you start struggling? You fall back on some of your more faithful places and set-ups. I traveled to Hillsboro to hunt the Cullum farm. I had tried to save this for my 2 sons, but I really need a confidence builder to get this season started. I set up at the usual place, far across the first creek on the border of the second. At first light I heard a gobble far in the distance across the creek so I felt that the best position was up on the hill across the creek. I made my way to the spot where Chase had killed his first gobbler 2 years ago. After beginning to call I could tell that the gobbler was heading the other way. After a while I heard a gunshot in that direction, so I figured my chance for him was now pretty slim. Unsatisfied with the set up, I relocated back down into the bottom where I had killed the nice gobbler the year before. I spooked three hens on my way and was a little frustrated at this but planned to spend enough time for it to settle down anyway. After setting up I gave it a half-hour before I started calling. Immediately I heard a gobble and where would you think it was? Right up there on the hill where I had just come from. It never fails, if you plan to move you should probably not or at least give it half hour to an hour after last calling. Well now under any other circumstances my task would be almost impossible - calling a gobbler down hill and across a creek, but on the Cullum farm I come to accept is as the norm. I called again and I immediately was cut off by what now appeared to be two gobblers. I started the camera running and in no time saw the birds making their way down the hill toward the creek. I finally picked them up in the camera and begin to ready my gun for a shot. The creek was about 75 yards. As they approached the first bird started down the opposite bank into the creek so I decided to flip the viewfinder eyepiece up so that I could back away from it. As the second bird followed I had lost track of the first and when I looked at the camera and then back at the creek, I saw that he had made me. Standing alert now on the near side bank he wasn't coming any farther. Although I had 5 decoys between them and me he knew that something wasn't right. They did an about face and went back the way they had come. I only moved my hand and the viewfinder about six inches! Was it that movement or the glare from the lens, I guess I'll never know. Although I should have, I didn't go out to the creek and look back at my set up to try to determine this. Another frustrating hunt. This videoing seems to be getting harder every year rather than easier, maybe the birds are getting wiser. Yea, that's it, the birds must be seeing a lot of hunters with video cameras. Like I said, you must find a cause and corrective action each time you fail, at least for that particular incident. It just seems that I'm running into a lot of different incidents.
APRIL 03, 1999 VIDEO HUNT #6
LOCATION: BALDWIN COUNTY, PRIVATE LAND
PARTNER: LISA PRICE AND TOM UMLAND
CALLS USED: ROHM SLATES, DOUBLE TROUBLE DIAPHRAGM, FOWLER GOBBLE TUBE
DESCRIPTION OF CALLS: YELPS, CUTTING, CLUCKING, PURRING, GOBBLING, FIGHTING
DESCRIPTION OF HUNT: AM HUNT HEARD 6-8 GOBBLERS
Well, I always said you could do a much better job behind the camera if you left the gun or bow at home. Today I would be videoing and calling for Lisa Price, Outdoor Writer for Bow and Arrow Hunting magazine. We would be hunting Tom Umland's club in Baldwin County. If there was one place I would lay odds on seeing and killing a turkey, it was here. Lisa had traveled from her home in Maine to Georgia to visit her friends and my co-workers Florella Crouch and Jeanne Salvador. She had hoped to get some turkey and wild hog hunting in and a story to take back. We discussed our game strategy the evening before and how Lisa would attempt to harvest her first turkey and with the bow, of course! I met Tom and Lisa at Tom's club the next morning and we were set up overlooking the pasture before daylight. As the day awoke, so did the gobblers. There must have been 6 or 8 gobbling birds throughout a half-mile stretch in front of us. As I began calling, I anticipated the bird to our left to be the first to show. After fly down, it appeared he was making his way toward us. In the previous years Tom had no competition on the adjoining property. However, on this day it was not to be. The bird that appeared to be on his way ran right into a shotgun blast of an awaiting hunter. If the hunter had been calling we had not heard him. Well, there were plenty of birds and we had two to three more hours to hunt. After sparking the interest of what sounded like a couple of jakes we thought we might turn our luck around. Then as quick as they were fired up, they quickly silenced. Shortly thereafter, we heard what appeared to be a hunter calling from the same general direction. It didn't appear that Lisa would get her bird this morning. However, Lisa and Tom were to return 6 days later and Lisa would bag her first trophy gobbler with the bow. It was approximately 21 lbs. with a 10 inch beard and inch spurs. My Piedmont National Wildlife Refuge hunt had interrupted my presence or otherwise I would have captured an excellent story. The written story and article is published in the September issue of Bow and Arrow Hunting. I guess us southern boys will never here the last of this story and how two Yankees had to show us rednecks how to kill them turkeys!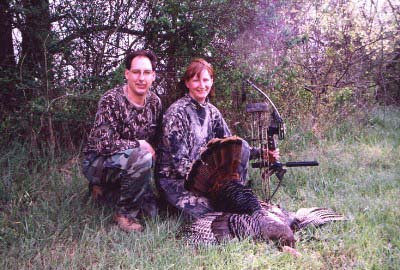 APRIL 04, 1999 NO VIDEO
LOCATION: WILKINSON COUNTY, PRIVATE LAND CHUFA FIELD
PARTNER: ALONE
CALLS USED: ROHM SLATES
DESCRIPTION OF CALLS: YELPING CUTTING, CLUCKING AND PURRING
DESCRIPTION OF HUNT: AFTERNOON HUNT, CALLED 2 HENS, 4 JAKES, 1 GOBBLERS-MISSED
My Luck had to change didn't it? I had 4 gobblers within a hundred yards on this morning at my hunting club in Baldwin County and was still unable to get one in shooting range. (With the exception of two jakes which could have been two of the gobblers) I even saw one of the gobblers and had relocated to try to better position on him with no luck, he had hens. So I grabbed some lunch and traveled to Wilkinson County to sit out the chufa patch my Dad had planted. I eased in the field at about 1:00 and immediately spotted two red heads over the crest of the hill. They disappeared so I assumed that I had spooked them and I continued around the perimeter of the field to set up on the far side facing the east. As I approached the blind we had previously made I spotted the gobblers again and realized that this time I had spooked them. Well, I had a long evening ahead of me and maybe they would settle down or I could call up other gobblers in the area. I set up and waited about an hour before calling. After 30 minutes of sparse calling I called what was probably the birds I had already seen - 3 jakes. Two of them came in to the decoys and went round and round them for 30 minutes. The other came to my blind and wasn't satisfied that I was not a turkey. They finally exited the field and I sighed relief and stretched a little. After some recuperation I started calling again and in no time called out a hen, which came out and dusted right in front of me. This would have made some good footage I thought. Anyway, I needed to kill a turkey! She finally left and I rested again. I called some more and could hear some scratching in the leaves behind me and also some drumming, so I knew there was a tom back there! Eventually a hen came out and was followed by more jakes. It appeared as if three were the same and there was another one following. I thought this was him. When I finally saw him, he too appeared to be a Jake, however a much larger Jake. Could this be the bird that was strutting? He had about a 6 to 7 inch beard and I almost squeezed the trigger on him when I caught myself. He came out and had not strutted a single time with a hen less than 10 yards away. This was not my bird. I eased the gun down and watched through the thin blind as he made his way back behind me. At this point I began hearing the spitting and drumming again and thought what a wise choice I had made. The gobbler was so close behind me that the hair on my neck would stand up each time he spit and drummed! He was less than 5 yards and finally I could see him through the thin blind, which I had up rather high on my left back side since this was where I had expected the birds to come from anyway. He ran at the Jake and at that point I could tell them apart. Then he started strutting again. He had made his way to about 15 to 20 yards and I told myself to wait until he made it out in front, so that the blind would not be in the way. As he strutted away from me I eased the gun up into position and apparently the hen or one of the 4 jakes in front of me spotted me. A putt or two had put him on the alert and I knew it was now or never. I eased up and shot once and then a second time, as he became airborne. No turkey! What had possibly gone wrong this time? I chased the bird 75 yards and watched him go out of sight. At this point I was "fuming". What have I got to do to kill a turkey? I assessed the shot and found that both shots had many of the pellets hit an inch sapling less than 10 feet from the gun barrel. The next day I noticed a hole in my blind also. Apparently my sights sit so high on my ribbed barrel, that I don't realize the bore is well below and takes an entirely different path. At this point I'm about ready to give up! Maybe I should just take the bow, at least if I missed most people would understand!
APRIL 16, 1999 NO VIDEO
LOCATION: JASPER COUNTY, PRIVATE LAND
PARTNER: ALONE
CALLS USED: ROHM SLATES
DESCRIPTION OF CALLS: YELPING, CUTTING, CLUCKING PURRING
DESCRIPTION OF HUNT: AM HUNT, CALLED 1 HENS, 2 GOBBLERS, KILLED TWO
As I said previously when the going gets tough, go to a where you have the most confidence. I decided the Cullum farm in Jasper County was just that place. I was just a tad bit late this morning and didn't risk going to the normal set up and for once was very fortunate. I set up about 200 yards from the end of the pasture and as it turned out, they were roosted just inside the wood line. In no time they had flown down and were strutting in the edge of the pasture. There were three hens and two mature gobblers. It looked like the two I had previously spooked. Well maybe my location would be ideal after all. I called enough to make them gobble and tried to out call the hen once I got her fired up. It was the making of a long wait. I called sparingly off and on for 1 hour and 45 minutes before the birds got close enough for a shot. Once they were in range, I had decided to take the larger bird, which was doing the most strutting, however the other bird appeared to have a longer beard. When I was ready to shoot the hen stayed just in front of or behind the gobbler. When she finally moved far enough away for the shot, the second tom moved just in front of the first gobbler. With my luck, I thought maybe if I shot at both of them I might just get one! At the gun blast, both gobblers fell and I had quickly caught my season back up. The larger bird would have weighed about 19 pounds and had a 9 1/2 inch beard and 1 inch spurs. The smaller bird would have weighed about 18 pounds and had a 9 3/4 inch beard and 3/4 inch spurs. Finally! I might could pick the camera back up and hopefully make be best for the rest of the season.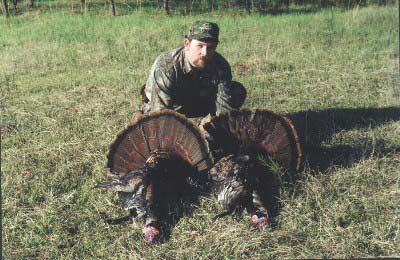 APRIL 23, 1999 VIDEO HUNT #7
LOCATION: BALDWIN COUNTY, PRIVATE LAND BROWN'S CROSSING
PARTNER: ALONE
CALLS USED: ROHM SMALL SLATE
DESCRIPTION OF CALLS: YELPING, CLUCKING AND PURRING
DESCRIPTION OF HUNT: PM HUNT CALLED 2 JAKES, BOW KILL
I had previously called up 6 jakes on this area and decided to return to try a bow kill. I had yet to get a harvest on film and making the first with the bow is always tough. I slipped into the edge of the pasture through a small section of woods being as quiet as I could. As I approached the pasture I scanned every patch of the pasture that I could see through the trees. I had made my way to within 20 yards of my set up tree when I caught movement. I glassed the pasture to spot a turkey feeding away from me. The wind was fairly brisk and I'm sure that is what aided me in slipping the additional 20 yards to where I needed to set up. With the camera, bow, seat, tripod etc. It's not easy to be unseen, however I did it and was able to set up. I didn't even attempt to set out a decoy. It took about 30 minutes to finally get set up and after relocating the bird, I noticed that it was two and both were jakes. I let them make their way across the field so that hopefully they would come straight in and give me a good camera and bow angle. As soon as I started calling, they slowly started making their way directly toward me. It only took about 10 minutes and as they neared the spot I wanted to shoot I prepared the camera and readied my bow. I let the first and then the second bird walk right through my only opening. It just wasn't right. They were a little too far; about 30 yards and I really wanted to make a clean shot, so I let them go. They walked right up the edge of the pasture to my left. As they disappeared, I lowered my bow, repositioned the camera and did some really low yelping and purring. I also scratched the leaves. This should be enough, I thought, so I readied my bow with my left hand and began videoing with the right. Sure enough I could vaguely see them approaching again. This time I left the camera positioned on the opening and drew my bow. I could tell that the second bird would present a closer shot so I let the first bird go. As the second bird was centered in my shooting lane, I released the arrow. The bird flew up and back down and ran about 10 yards before collapsing. Although only a Jake, it was a clean, quick kill and a shot anyone would be proud of. This was my fifth turkey with the bow and with every passing season I'm becoming more and more confident with the bow. Especially with the luck I've had with shotguns the last few years!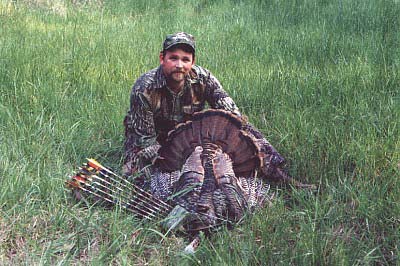 APRIL 29, 1999 VIDEO HUNT #8
LOCATION: JASPER COUNTY, PRIVATE LAND
PARTNER: DWAYNE MORGAN/MATT GOOLSBY
CALLS USED: ROHM SLATES, DOUBLE TROUBLE DIAPHRAGM, FOWLER GOBBLE TUBE
DESCRIPTION OF CALLS: YELPS, CUTTING, CLUCKING, PURRING, GOBBLING FIGHTING
DESCRIPTION OF HUNT: PM HUNT CALLED IN 1 HEN, SAW GOBBLER AND JAKE
The season had become a rather gloomy one for Dwayne as well. Although I had turned mine around somewhat filling my limit, I still did not have the footage I was accustomed to getting. We traveled back to the Goolsby Farm on an afternoon that had just cleared after rainy front. We entered the pasture where Matt and I had set up on opening day. As we entered I cautioned Dwayne that we would be lucky if the birds were not already in the field. As I slipped down the road with my monocular in hand I had just cleared a large pine when I spotted him. "We've been had" I told Dwayne, although I don't think those were the exact words! He quickly exited the field and I could tell he had a nice beard. Closely behind him was a Jake. Well, we set up anyway and eventually called in a hen in which we almost were able to make into a Jake! The late season woos will make the slightest tuft of feathers look like a beard and with the sun just right makes that head look funny too. Dwayne was waiting on the signal from me to shoot and since the grain was so high we couldn't tell it was a hen until it had made it all the way to the decoys.
MAY 08, 1999 VIDEO HUNT #9
LOCATION: TWIGGS COUNTY, PRIVATE LAND SHEPHERDS
PARTNER: CHASE FOWLER
CALLS USED: ROHM SLATES
DESCRIPTION OF CALLS: YELPS, CLUCKING, PURRING
DESCRIPTION OF HUNT: PM HUNT SAW 2 GOBBLERS AND HEN
I would now try to help get Chase a bird. We had received permission to hunt a nice piece of property that was close to my home. We arrived at the planted corn field and grain field at about 4:00 on this afternoon. We slipped down the road cautiously glassing the field as we approached. At the last possible area of the field I could glass before entering, I saw him. Full strut, at least one gobbler and 2 other turkeys. We obviously couldn't set up here and there was no way to slip into where the blinds were, so we elected to slip through the woods to the opposite end in hopes of setting up there, which I anticipated to be the direction they would go to roost. We spent 30 minutes and at this point I wondered if it was really worth it. Trying to be quiet with all the equipment and a 12-year-old following was near impossible. We slipped out to the field to see if they were still there and sure enough they had moved in the direction I had figured, but there was still no way to set up. We retreated and elected to just set up in the woods hoping to catch them going to roost. It was still a long wait and after an hour decided to give it up and slip back out to the pasture at least to watch them and see where they would exit. We made it back out and they were still there. We slowly inched toward the edge that would possibly allow Chase a shot. By they time we got into position the gobblers were making their exit across the cornfield. I obtained a little footage and called a little to the first bird and he wasn't interested. The second gobbler was about 50 yards behind the first and when I called to him sent him quickly away to catch up with the first gobbler. They went directly up the road right past the truck! But isn't that the way it always goes? We should have set up along the edge of the road and they would have came right past us.
MAY 09, 1999 VIDEO HUNT #10
LOCATION: TWIGGS COUNTY, PRIVATE LAND SHEPHERDS
PARTNER: HAROLD FOWLER
CALLS USED: ROHM SLATES, DOUBLE TROUBLE DIAPHRAGM, and FOWLER'S GOBBLE TUBE
DESCRIPTION OF CALLS: YELPS, CLUCKING, PURRING, GOBBLING, and FIGHTING
DESCRIPTION OF HUNT: AM HUNT SAW 1 JAKE CALLED IN 1 GOBBLER / KILL AT 9:00
Chase was not overly eager to go back the next morning, so Dad and I decided to make a short hunt before church. I knew the direction the birds would be and I knew there were two of them making it possible for both of us to get a bird. The first bird to appear was a Jake and he was not overly interested to come in to the decoys. He left the field heading directly toward where the birds would be. I heard a gobble in the direction of the birds and another gobble in the opposite direction. At about 8:30 Dad whispered that he saw a bird entering the field. Sure enough, it was one of the good birds. I didn't pick the bird up until he was half way across the cornfield. I finally got the camera on him and started calling a little. He strutted but didn't appear to detour from his original heading. At this point hen calling would do little good as he expected the hen to follow him, so I gobbled on my tube and he immediately answered with a gobble. I gobbled again and he again cut me off. This was definitely an attention getter. He slowly started making his way in. A small tree blocked a good portion of my video and I told Dad I would signal when it was time to shoot. When the bird finally cleared the tree and had made it completely to the decoys, I told Dad "anytime". As the bird strutted away from us I caught movement with my eye of Dad easing his gun into final position. The bird slowly moved to our right and right behind the tree from my sight again. "Wait" I said, "Wait I can't see", "I'll tell you when to" --- BANG! Oh well, I caught a slight glimpse of his head, as he was about to clear the other side. Dad's bird weighed 17 1/2 pounds had 3/4-inch spurs and an 11-inch beard. "We even made the morning church service on time!"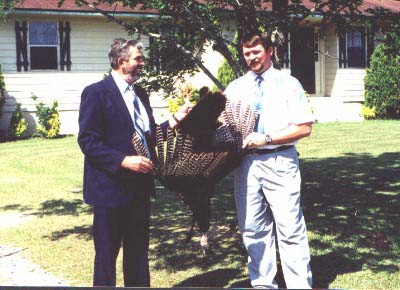 Chase and Heath did get a Jake each thanks to Dad whose season was much better than mine. Heath got his first turkey, a Jake on the last day of the 1999 Georgia season.
| | |
| --- | --- |
| Chase's Turkey | Heath's turkey |
THE END
Return to Turkey Page
Return to Derek's Home Page