TURKEY HUNTING
VIDEO/HUNTS FOR 2000
BY
DEREK FOWLER
APRIL 08, 2000 VIDEO HUNT #1
LOCATION: TWIGGS COUNTY, PRIVATE LAND
PARTNER: ALONE
CALLS USED: ROHM SLATES, DOUBLE TROUBLE CUTTER DIAPHRAGM
DESCRIPTION OF CALLS: YELPS, CUTTING, CLUCKING, PURRING
DESCRIPTION OF HUNT: AM HUNT CALLED IN ONE HEN


Well, It was not until this day that I finally got some footage with my new Canon GL-1 digital camcorder. Although it was only a hen, she gave me some fine, close video footage. There was no gobbling to be heard and after calling her in and videoing her and 6 deer I left and returned with Chase on the same afternoon only to call her back up. This was probably the windiest day I have ever tried to hunt.

APRIL 10, 2000 VIDEO HUNT #2
LOCATION: BALDWIN COUNTY, PRIVATE LAND
PARTNER: TOM UMLAND
CALLS USED: ROHM SLATES, DOUBLE TROUBLE DIAPHRAGM, FLYDOWN WING
DESCRIPTION OF CALLS: YELPING, CUTTING, CLUCKING, AND FIGHTING PURRING
DESCRIPTION OF HUNT: MORNING HUNT CALLED IN 3 GOBBLERS AND 4 JAKES


Tom and had yet to kill a turkey and decided that our best chance would be on a weekday at his club. We both took the morning off and set up on his little "honey hole" of a pasture. Immediately before we could get set up we heard a gobble off the right end of the pasture. After completing our set up, I gave some fly downs with my wing and a few cackles. The bird responded eagerly. After the fly down calls, I gave some low yelps and then excited loud cuts and yelps. This time you could here more than one bird respond. After the birds had flown down they appeared to get farther away. A hen to our right began to yelp and cut. We called sporadically and it wasn't long when we spotted a gobbler directly in front of us. As the bird neared our decoys we could tell he was a pretty good bird. Tom was to take the first bird, so I told him not to shoot near my inflatable decoys. The bird approached cautiously and went directly to the Jake decoy. At that point he stopped turned and began taking slow steps and holding one foot up. It appeared as if he was imitating the decoy. This went on for almost five minutes.

I kept waiting for Tom to shoot but was also waiting for the tom to clear my decoy. We could hear a couple of other birds gobbling in the distance and Tom was a little hesitant to shoot for fear of spooking the other birds and also wanting to insure he took the best bird. Well, a bird on hand and especially on video is better than a half dozen gobbling out of sight! As the bird cleared the decoy, I called to get the bird to stretch his head up. When he did I told Tom to shoot and when he did the bird dropped instantly. He flopped for a while and I began to call to keep the other birds interested. As he was flopping I thought quickly and began to do some fighting calls with my slate and mouth call. Apparently this convinced the other gobblers and they soon approached. Tom spotted them first and it was a while before I picked them up with the camera. Two nice gobblers approached the Jake decoy and again, I had to wait to get a clear shot at one bird without hitting the other or the decoy. We had decided only to take one additional bird and save the other for Lisa Price who had planned to return to Georgia for another bow hunt for turkeys. After I shot other bird seemed a little disturbed at first but then decided to take advantage of the opportunity and throw in a few licks of his own. He pecked the downed gobbler for the next 8 to 10 minutes. Shortly after the shot 4 additional jacks came in and were eager to up their status in the flock provided the opportunity arose. We captured some good video while all this was going on. The birds finally left and Tom and I completed our congratulations and narration for the video. Tom's bird was a little heavier than mine at about 18 pounds. His also had 1 inch spurs while mine sported about 3/4 inch, however my bird had almost an 11 inch beard while Tom's was a little under 10. Maybe the new camera wouldn't be a jinx after all and the season would turn around in my favor. Good hunt and video.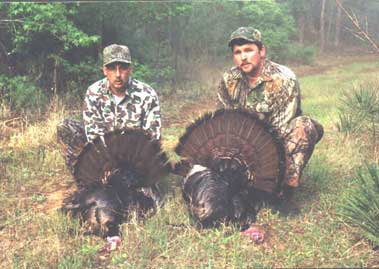 APRIL 11, 2000 VIDEO HUNT #3
LOCATION: BALDWIN COUNTY, PRIVATE LAND BROWN'S CROSSING
PARTNER: ALONE
CALLS USED: ROHM SMALL SLATE AND DEADLY TRIPLE DIAPHRAGM
DESCRIPTION OF CALLS: YELPING, CUTTING, CLUCKING AND PURRING
DESCRIPTION OF HUNT: PM HUNT CALLED 1 GOBBLER, NO SHOT
I had not hunted the Brumfield property yet and felt it was time to give it a try. I slipped into the field where I had shot the Jake with the bow the previous year. I called sporadically for about an hour when I saw several dogs enter and leave the far side of the field. I felt I should give the calling a rest until the area settled down. After about 30 to 45 minutes I cut vigorously and was answered by a gobble which I thought had came to my left. I started the camera and moved slow and cautiously. I finally saw him moving around the edge to my left side coming my way. I watched and finally found him in the video. I had chosen the only spot to shoot, which he would be at in only a few more steps. He was very cautious and stopped to look for several minutes at a time. Finally after not hearing the hen he was looking for he turned to go straight away. He only needed to move to my right a few steps to give a clear shot from behind some brush directly in front of me. I eased my right hand down from the camera and began scratching some leaves. He looked up but turned to continue away. I decided at this time to call, which was probably a mistake. As I yelped he gobbled but it appeared as if he was about to figure me out. He stopped again to look directly toward me at less than 30 yards. He may have glimpsed the camera lens but nevertheless, he had heard and seen enough. He putted and began to walk slowly back into the woods. I called again and he gobbled eagerly but he was not satisfied that the eager hen would not come to him. I let him go and thought of the Arnold Schwartzenegger line: "I'll Be Back!"
APRIL 15, 2000
LOCATION: TWIGGS COUNTY, PRIVATE LAND
PARTNER: HAROLD FOWLER
CALLS USED: ROHM SLATES, DEADLY TRIPLE DIAPHRAGM
DESCRIPTION OF CALLS: YELPING, CUTTING, CLUCKING, PURRING
DESCRIPTION OF HUNT: AM HUNT, CALLED IN 1 LONGBEARD 2 JAKES AND 1 HEN NO VIDEO!
Well, after two blunderous seasons on the Vaughn tract, Dad and I decided to try it again, this time without the camera. It also happened to be still drizzling rain after a night of showers. We also had a reunion to attend and only had 2 to 3 hours to hunt. We entered the first field and tried to locate a bird with an owl hooter and crow call but didn't hear anything. We proceeded to the power line to set up where we had blundered the last couple of years. Without the camera we elected a new location that would give us better visibility but not as much camo. Immediately after setting up I heard a gobble directly down and on the left side of the power line. I began calling and cutting loudly to get a response and did. A hen also answered and was very close to the gobbler. After about 30 minutes it appeared as if the gobbler was on the way and had worked his way across the power line to the right side. Lots of clucking and Smalltalk was in order now and soon I spotted a turkey on the left side of the power line. I motioned to dad as the gobbler crossed the power line. After he made his way across, I noticed that there were two. I could tell that one was a Jake and was sure the other was the bird we were hearing gobble. I motioned for Dad to call and when the bird gobbled it was neither of these two. The bird now gobbling was back on the left side of the power line and about 125 yards. Finally I saw him strutting his stuff! No doubt this was the bird we were after. Again lots of soft calling lured the hen across and toward our location. The other bird I thought was the gobbler was another Jake and they made they're way toward the gobbler and hen. As soon as the jacks were close enough to see the decoys they began a faster pace. The Gobbler was not going to let the jacks get to the "newcomers" first so he picked up the pace too. A pace that was almost too much for me to keep up with since the hen was now within about 15 yards of me. I managed to swing the gun smoothly enough to catch up with him and release the load of Winchester #5's. He dropped and as I exited the blind the other birds took to the air. It was a very small bird at about 16 and 1/2 pounds and light on beard - 8 1/2 inches, but fairly impressive spurs for his size at 1 1/8 and 1 1/16 inches.
APRIL 20, 2000 VIDEO HUNT #4
LOCATION: WILKINSON COUNTY, PRIVATE LAND CHUFA FIELD
PARTNER: ALONE
CALLS USED: ROHM SLATES
DESCRIPTION OF CALLS: YELPING CUTTING, CLUCKING AND PURRING
DESCRIPTION OF HUNT: AFTERNOON HUNT, SAW 2 JAKES, AND 2 GOBBLERS
On my way to Dublin to pick my son up from baseball practice, I decided to swing in by the old chufa patch and see what was going on. As always I would carry my gun and camera. It was very windy and that probably saved me from being spotted. As I entered the edge I glassed the field through the woods to try to pick up any movement. As sure as luck or "unluck" would have it I spotted them already there with no way to get even close to set up. I did manage to slip off the side of the road and get my camera set up and get a little footage. I never identified all the birds but there were at least two good longbeards. They appeared to respond to my calling at first but never appeared. I watched them exit the far side eventually and my thoughts again were: "I'll Be Back!"
APRIL 22, 2000 VIDEO HUNT #5
LOCATION: JASPER COUNTY, PRIVATE LAND
PARTNER: CHASE
CALLS USED: ROHM SLATES AND DEADLY TRIPLE DIAPHRAGM
DESCRIPTION OF CALLS: YELPING, CUTTING, CLUCKING PURRING
DESCRIPTION OF HUNT: MORNING HUNT, CALLED 1 JAKE
Well, since I had taken two birds, I would do my best at helping my sons at that chore. Chase and I traveled to the Cullum farm in Jasper County. The previous 3 attempts ended up in favor of the turkey. The first morning Chase and I set up and had walked right past the gobbler, he gobbled within a hundred yards as I was putting out the decoys. He eventually came in but spotted some movement and never got close enough for a shot or even to identify him precisely. The second time I set up in the same location but was earlier, again I walked right past him and he gobbled as I set the decoys out. He appeared to be toying with me. He moved away and far around as he left gobbling all the way. The third time Chase was with me and I decided that this bird was not going to get the best of us. We detoured around his roost and set up on top of the hill where he had went the previous time. This time he left and traveled right past the old blind. Well this morning the fourth time we had hunted this bird was going to be the day and as it turned out, was. We arrived earlier than any of the previous times and were at the blind twenty minutes before his normal wakeup. It would have been dark with the exception of a full moon. Was this ridiculous? As I set the decoys out he gobbled at less than 75 yards. He was taunting me and I was really getting upset. I made my way back over to the blind and told Chase that it was almost an hour before he flew down that maybe he would forget our presence and come in anyway. At good light I produced a few fly down beats with my wing and very little calling. Soon a hen started calling and I answered and so did he. I called sporadically and he became quiet. Chase and I thought he had flown down and about that time a bird flew down and lit directly between the Jake and hen decoys. But was this the bird we had spent 4 hunts on? It was a Jake. He never gobbled while I was watching him but as soon as he left he started again, so it appeared and then I saw him go across the pond dam and could not see a beard. This Jake had one of the best gobbles I have ever heard. I told Chase that if he returned and he wanted that he could shoot him and get him out of my misery. He never returned and as of this writing we have not returned. We may just get that bird as a reminder of the hunts we wasted on him!
APRIL 27, 2000 VIDEO HUNT #6
LOCATION: BALDWIN COUNTY, PRIVATE LAND BROWN'S CROSSING
PARTNER: ALONE
CALLS USED: ROHM SMALL SLATE
DESCRIPTION OF CALLS: YELPING, CLUCKING AND PURRING
DESCRIPTION OF HUNT: PM HUNT CALLED 1 JAKE
I had previously said "I'd be Back" and here I was. I setup and after good light and several series of calls, a Jake flew in from my right and lit directly in front of me within 20 yards. If only it could have been the gobbler I was after. Nothing else showed and I eventually left for work.
APRIL 29, 2000 VIDEO HUNT #7
LOCATION: WILKINSON COUNTY, PRIVATE LAND CHUFA FIELD
PARTNER: DAD
CALLS USED: ROHM SLATES
DESCRIPTION OF CALLS: YELPING CUTTING, CLUCKING AND PURRING
DESCRIPTION OF HUNT: MORNING HUNT, SAW 11 JAKES, 3 GOBBLERS, 3 HENS, AND 11 CHICKS
On previous evening I had entered the chufa patch and saw two jakes, which I had to run off to make my way to the blind. I hunted from 10:00 until 4:00 without seeing another turkey. I did hear a gobbler across the bottom toward the hay field however. When I left at 4:00 I made my way toward where I expected the birds to be and surely enough they were there. I circled and tried to call them and at my first yelps they went as if shot at. I should have tried them with less calling I guess???
Dad and I entered the hay field and the only bird we could hear sound like a mile away, but it was in the direction the birds had went the day before. Dad decided to hunt the chufa patch and I would hunt here. After I set the decoys out and completed my blind I could tell the birds were not as far as previously thought. Two or three birds were now gobbling. Hens were yelping and cutting, it was almost like earlier in the season. After a while 3 or 4 jakes came across the field and I could tell the gobblers were now gobbling in the direction they were going. The gobblers had made they're way around me and were now through the thin field of pines. This was ok I thought since they liked to travel this area. I soon saw the strutting toms in the field along with as many as 11 jakes. One of these jakes was a bit too comical. He continued to be the "bully" bird, as he would not let any other bird feed including doves and crows. I called to the birds for almost three hours and captured some excellent video but could not convince them to come to me. I even called a hen within 5 steps of my blind but the gobblers were a bit too stubborn to even come to her. She eventually went to them and they were satisfied. They left the field and about an hour later a hen and brood of chicks made they're across the field. She had her "hands" full with those guys! They couldn't have been but a few days old and many were playing catch-up. It was a bit painful thinking the season is pretty much over when you see this but it was good to see and capture on video. I will return and attempt to get closer to the gobblers strutting zone. How about tomorrow!!!
APRIL 30, 2000 VIDEO HUNT #8
LOCATION: WILKINSON COUNTY, PRIVATE LAND
PARTNER: DAD
CALLS USED: ROHM SLATES
DESCRIPTION OF CALLS: YELPING CUTTING, CLUCKING AND PURRING
DESCRIPTION OF HUNT: MORNING HUNT, SAW 3 JAKES, 2 GOBBLERS, 1 HEN
Dad and I returned to the field and set up where I had saw the birds the previous day. At first light two of the birds sounded off directly behind us in the hardwoods. We thought since it was pretty thick directly behind us that it should be ok to stay put and then they would eventually come out. After they flew down they went the other way and we thought we would take advantage and move across the field and face the direction we figured they would come from. They continued away and toward the lower end of the pasture. After looking the area over we could not decide on a location to setup to give us good camouflage so we move closer to the birds in the hay field. When we set up they were less than a hundred yards and just inside the wood line. They never answered my calling and finally stopped gobbling. There were two options: the field where we come from or the chufa field. Dad went to the chufa field and slipped back to overlook the field where we had started. When I glassed the field there were turkeys already there. Patience in turkey hunting is an understatement! If only we had had more we would have both killed a tom because they were both strutting behind a hen in the field. I slipped down to the "pine blind" and captured a little more video and eventually decided to leave the camera and slip around to try and kill one. I managed to get set up in the original blind we had started at. The birds were in the lower end of the field. I called very little but the birds continued with the hen into the woods. These birds were giving me fits! I'll be back.
MAY 02, 2000
LOCATION: WILKINSON COUNTY, PRIVATE LAND
PARTNER: ALONE
CALLS USED: ROHM SLATES
DESCRIPTION OF CALLS: YELPING CUTTING, CLUCKING AND PURRING
DESCRIPTION OF HUNT: EVENING HUNT, SAW 10 JAKES, 2 GOBBLERS, KILLED GOBBLER, NO VIDEO
I gave the hot spot a little time to cool off before returning in the evening of May 2. I decided not to force my presence and try to set up at the far upper end of the field beyond the scattered pines. As I made my way around the road leading into the field I heard one of the birds gobble down the end of the small field. I eased down into the hardwoods to try and slip around the the opposite wood line. Once I made my way there I glassed the field over good and could not see any birds and when they gobbled again I could tell they were in the lower end. I slipped closer glassing cautiously. Once I reached the point I wanted to view I crawled out into the open and placed a hen decoy. They gobbled again and I knew they had not saw me and I should be in good shape to set up there. I looked but couldn't find a place to sit in view of the decoy, so I ease a bit farther down hoping to catch the birds as they passed. Once I spotted a tree I crawled to prevent being seen since I was now in better view of where I had heard them gobbling. I stopped to glass and listen and waited until they gobbled again before making my final approach. I waited about 6 or 8 minutes and figured I had spooked them. I eased up and glassed the field but could not see a turkey. I eased toward the tree and scratched the leaves as I went. Once I settled down I removed my slate call and plan to use it only sparingly and softly. At this time one of the birds gobbled and they were farther around the edge of the field than I figured. They had not seen me but I suspect they could have heard me since I was within about 125 yards. I scratched the leaves several times like a hen feeding and did not yet make a call. About that time I heard them coming through the woods. They were coming at an angle that would put them to my right for no shot. I had expected them to come out on my left in the field but you should always expect the unexpected. Well, maybe it was a hen and she would venture back across to the field. I switched hands with my gun and would shoot left handed. I reminesced of the last time I shot a bird left handed....My First Gobbler and the shot impact broke my nose as I later determined. This was starting to become impossible. As the bird approached my position I could see through the thick pine saplings that it was one of the gobblers. Once he cleared the hardwoods he gobbled and began strutting. I could hear the other bird drumming as he followed. The first bird started walking away from me as the second entered the opening. I felt I had to do something so I eased my left hand down and scratched the leaves again. He immediately turned and began coming my way. He stopped where the second bird was and they both began gobbling and strutting. With both gobblers less than 20 yards I had no shot with the thicket of pines between them and me. I knew if they moved around farther to my right I would have to attempt a shot and it would be less than 15 yards. My success on close gobbler has been poor the last couple of years. "Maybe if I remained cool and quiet they would return to the field on my left" I thought. Finally the birds decided to return to the field and I thought "they're actually going to do what I wanted them to do". But not without a price! The birds were going to pass within 6 steps of me and I had nothing but my Realtree extra brown camo to hid me! Well as usual, it was enough. The birds went across into the field but were a little cautious until they saw the hen decoy which was behind me. Now somehow I had to get my gun back from a left handed position to a right handed position with the birds at 15 yards....no way! I would just have to wait and let them be entertained by the hen decoy as I slowly repositioned my gun. I was about half way around when I notice the 10 jakes which were coming out of the field directly toward me and the gobblers. "What else will I have to contend with" I asked myself? I managed to finally get my gun in a position where I felt comfortable so I relaxed as best I could. The lesser bird came back to my left in view and I debated whether to quick draw and shoot him or not. At fifteen yards the pattern is so tight it would be difficult to say the least, so I decided to wait and also try to get the better gobbler. I could tell the drumming was getting louder and knew he was about to come back into view. I cut my eyes as far as I could and finally saw him. At this point he appeared to be getting a little nervous and began walking my way. I'm sure he suspected something out of the ordinary or either saw some of my slight movements. He finally was at a point I would only have to move my barrel about a foot so I knew it was about to be decision time. He was walking away and about to be spooked. Once he cleared a couple of small pines I smoothly moved my aim to just below his head that was somewhat tucked and squeezed the trigger. Finally he was down and the other 11 gobblers took to the air in fright. The gobbler was nice with 1 1/8 inch spurs and a 10 1/2 inch beard. He weighed approximately 18 pounds. Although I killed several larger birds none has come with such agony and intensity. This was the first bird I have ever killed without so much as using a manufactured call. Maybe this is one of the answers to calling in the late season when birds have become shy to all calls. You can bet I'll be using it more often!
MAY 04, 2000 VIDEO HUNT #9
LOCATION: BALDWIN COUNTY, BHC HUNTING CLUB
PARTNER: ALONE
CALLS USED: ROHM SMALL SLATE AND SPITTIN' DRUM
DESCRIPTION OF CALLS: CLUCKING, PURRING, LIGHT YELPING, SPIT AND DRUMMING
DESCRIPTION OF HUNT: MORNING HUNT, CALLED IN NICE GOBBLER AND 3 JAKES, MISSED GOBBLER WITH BOW
Since I was now seeing many more birds than I was at the beginning of the season, and had finally got a couple under my belt, I decided to finish my season with the bow. After doing battle with a bird on our hunting club 4 previous times I'm not sure why I thought now that I could kill him with a bow. I suppose that I thought I had pretty much patterned him to a point I could call him up with little calling to a place he would come and strut. It couldn't have been planned any more perfect. I arrived at the club with time to spare. I set up with the anticipation that he would be within a couple of hundred yards to my left of behind me. I was overlooking an opening and wood road that I had seem him strutting in on my last hunt. No sooner than I had completed setting out the decoys and returning to the blind he gobbled within 150 yards to my left on the near side of the beaver pond. "Perfect", I thought. I clucked softly a few times and put the call down. As soon as he flew down I could hear him drumming. I turned the camera on and found my remote to use to limit my movement. I could tell from his drumming that he was getting closer and closer. I finally saw him through the pine branches we were using for camouflage. He was coming right down the road and would be at my decoys within 20 more yards. I readied my bow for the draw. The upper limb was quivering as I breathed with anticipation. I think he may have seen this and I had to let go of the bow until he strutted away from me. As he finally made his approach to the decoys he turned to face the jake decoy. This was it, I drew quickly and centered the pin at the center of his strutting fan. I released and the shot was true except that I had held too high. Although the shot was center of his fan I only grazed his back or neck and he ran swiftly away for a few yards. I immediately retrieved another arrow and nocked it for another shot. When I looked up he had disappeared. I couldn't believe it. I knew exactly what I had done. Instead of aiming for the base of the tail, I had centered the fan. This was the first strutting gobbler I had ever attempted to shoot. "Lesson learned!" I called to hopefully settle him down and now I waited and wondered where he was. After a few course yelps from a couple of jakes coming in from my left the gobbler answered. He had returned to where he had came from and was somewhat settled again it appeared. The jakes approached cautiously and finally was within my shooting zone. They never approached too close to the decoys but one began trying to strut. I had made my mind up to try and take a jake when I heard his drumming again and it sounded as if he was coming back. I eased my grip on my bow and waited. Another jake appeared and finally he approached to where the jakes were and was in a perfect shooting lane but with 4 sets of eyes to contend with I never was able to draw to shoot. He finally moved backed to the left and started feeding away. He continued to gobble so with that I knew I would have another day to try him.
THE END
Return to Turkey Page
Return to Derek's Home Page