TURKEY HUNTING
VIDEO/HUNTS FOR 2001
BY
DEREK FOWLER
---
MARCH 24, 2001 VIDEO HUNT #1
LOCATION: JASPER COUNTY, PRIVATE LAND
PARTNER: CHASE
CALLS USED: ROHM SLATES, DOUBLE TROUBLE CUTTER DIAPHRAGM
DESCRIPTION OF CALLS: YELPS, CUTTING, CLUCKING, PURRING, PREDATOR SQUEAL
DESCRIPTION OF HUNT: AM HUNT KILLED COYOTE
Opening day wasn't all too exciting. Chase and I started at the Baldwin Hunting Club and heard 3 gobblers but couldn't get anything to come closer than about 100 yards. We decided to travel to Chase's favorite place – the Cullum farm. We started there about mid morning and it wasn't long before we had a gobbler worked up. We set up on the hillside overlooking the opening where Chase killed his first turkey. The gobbler was hot but apparently had hens and would not budge. We worked him for about 2 hours and finally gave up when he quit gobbling. We decided to move around the edge and have a look over the bottom where we like to set up. Moving slowly and glassing as we went, we finally spotted a coyote. That was it! The coyote had spooked the birds and we felt we were pretty much finished at this point, so I told Chase we would try to call him up for a shot. We moved a little closer to the road, which I figured he would come down. We set down within 10 steps of the road so we would get a close shot knowing it would take a pretty close shot to make a clean kill. As soon as we were set I started the camera rolling and let out two series of squeals on my diaphragm to imitate a dying rabbit. No sooner than I had finished the second series, Chase said, "There he comes". I told him to shoot as soon as he was in front of us but Chase was expecting him to stop and didn't shoot until he had passed. I had one opening and I took the shot and dropped him in his tracks. He was a large coyote. We didn't kill a turkey on this morning, but we probably helped preserve some of the future flock.
---
APRIL 01, 2001 VIDEO HUNT #2
LOCATION: TWIGGS COUNTY, PRIVATE LAND
PARTNER: DAD
CALLS USED: ROHM SLATES, DOUBLE TROUBLE DIAPHRAGM
DESCRIPTION OF CALLS: YELPING, CUTTING, AND CLUCKING
DESCRIPTION OF HUNT: MORNING HUNT KILLED 2 GOBBLERS
Dad and I had not hunted this property together since the previous year when he killed a gobbler on video. The grain field was so high the video was not going to be great so we relocated to a clear-cut over a small food plot. We positioned ourselves with our backs to a brush pile and set the decoys up in the tall grain. We called for about half an hour before we heard the first gobble. He was directly in front of us, which would hopefully give us some good video before the shot. The sun was not going to be our friend since it was now peeking over the treetops directly in front of us. I had turned the video camera on a couple of times and apparently turned it off thinking I was turning it on when the birds arrived. The birds finally came in and I shot the right tom and Dad the left. I turned the camera "on" as we got up to retrieve our birds. I later realized what I had done. It just doesn't get easy when you try and video and shoot. Oh well, Video for this season is not looking too good!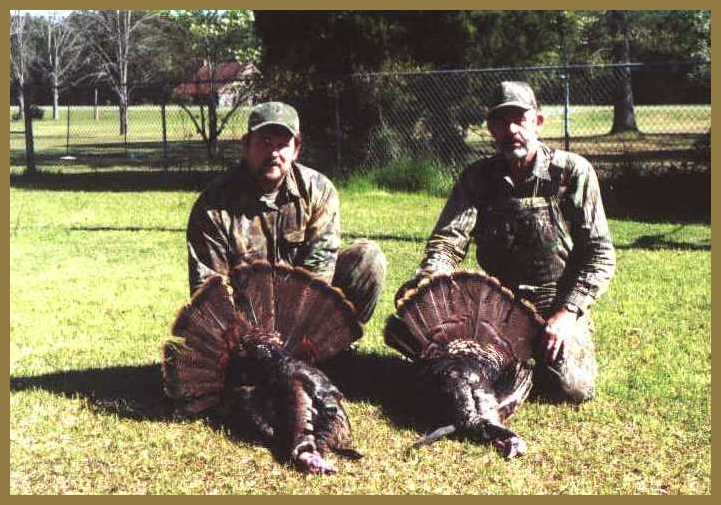 ---
APRIL 05, 2001 VIDEO HUNT #3
LOCATION: BALDWIN COUNTY, PRIVATE LAND
PARTNER: TOM UMLAND
CALLS USED: ROHM SLATES, DOUBLE TROUBLE DIAPHRAGM, FLYDOWN WING
DESCRIPTION OF CALLS: YELPING, CUTTING, CLUCKING, and FIGHTING PURRING
DESCRIPTION OF HUNT: MORNING HUNT SAW 2 GOBBLERS, 5 JAKES AND 4 HENS
Tom and had previously hunted the honey hole we usually go to get our turkeys and were interrupted by another hunter. We had heard as many as seven gobblers and the other hunter shot a couple of times, so we elected to give it about a week's rest. On this day the birds were again a gobbling frenzy. Again we heard about 5 different gobblers. At first light the hens began cutting and yelping directly to our right and the gobblers were across in front of us. We thought if we could get those hens to and past us we would be in good shape. They didn't cooperate and stayed in front of us for about an hour. The gobblers finally showed and followed the hens across the pasture to our left never coming close enough for a shot. After looking at the video I would say the dominant gobbler had the largest beard of any turkey I had ever seen. It was a true "paintbrush" and over 13 or 14 inches in length. We only made one other evening hunt on the property so as far as we know he will be there next year.
---
APRIL 11, 2001 VIDEO HUNT #4
LOCATION: JASPER COUNTY, PRIVATE LAND
PARTNER: ALONE
CALLS USED: ROHM SMALL SLATE, FOWLER'S GOBBLE TUBE AND DEADLY TRIPLE DIAPHRAGM
DESCRIPTION OF CALLS: YELPING, CUTTING, CLUCKING, PURRING AND GOBBLING
DESCRIPTION OF HUNT: AM HUNT CALLED 1 GOBBLER, 2 JAKES AND MISSED GOBBLER

I returned to the Cullum farm to try and work the bird Chase and I had heard earlier in the season. I set up in the bottom pasture and he started the morning off across from me about 300 yards and up on the hillside. I knew he wouldn't come straight in so I sat back and called sporadically. He gobbled about a dozen times on the roost and no more when he flew down until about 9 o'clock. He had worked his way to my right and had made it down to my level. I cutt at him when he gobbled and yelped on different calls to sound like other hens. A few minutes later I gobbled to sound like his competition. I waited and he finally showed about an hour later with two jakes with him. He came straight in to my inflatable decoy and just destroyed it. As it was deflating, I tried to wait and not shoot while he was on top of it but I couldn't resist the urge. I must have held too high in an effort to avoid shooting my decoy and missed the turkey. After reviewing the decoy I had actually squeezed the shot off just as he was pecking my decoy and did not get any shots in the head. He had run and eventually flew so I think he'll be around next year for some more abuse!
---
APRIL 12, 2001 VIDEO HUNT #5
LOCATION: BALDWIN COUNTY, PRIVATE LAND
PARTNER: ALONE
CALLS USED: ROHM SLATES, DEADLY TRIPLE DIAPHRAGM
DESCRIPTION OF CALLS: TREE YELPING, CLUCKING, AND PURRING
DESCRIPTION OF HUNT: AM HUNT, CALLED 1 LONGBEARD AND 1 HEN, VIDEO BOW/LOSS!

Well, after missing the gobbler the day before with my shotgun, I suddenly decided I could not do any worse with the bow. At least missing with the bow wouldn't seem as bad. A co-worker – Florella Crouch had invited me to hunt her property and had told me she had heard a gobbler on the previous morning. I figured the way the birds travel in that are that it would be a good time to give it a shot. I set up at the end of the pond dam intersecting a road hoping the bird would come from either way. At first light he gobbled straight across the pond from my location. He could have gone either way. As luck would have it, he chose the open dam side and strutted across the dam for at least 100 yards. In my haste to set up, I had to get really close to the road so I would have to worry about obstruction for a shot. I was less than 10 yards from my decoy. Not a huge problem with a bow especially if the bird is strutting. I set the hen decoy up to my right front and the Jake to my left front thinking the bird would come to the Jake and that would be my shot location. When he arrived he came straight for the Jake and in a run so fast I could not ready my bow in time before he had taken my Jake out. Yep, deflated again and so fast that he was shocked the Jake decoy didn't even put up a fight! He turned a couple of times and I almost drew, but at that time the hen had arrived. She was within about 3 steps of me and all I could do was wait. As she moved to my left, the gobbler moved back to my right toward the hen decoy. He strutted around the hen and I decided that getting video was out of the question, so I concentrated on a shot. As he strutted away I drew for the shot. The hen saw me and putted. Just as I released the arrow the gobbler was turning. I hit the base of the tail feathers where I was aiming but with a slight quartering shot. The bird flopped end over end for about 30 seconds and regained his composure and ran off. I launched another shot at him running at about 30 yards at his head, which was all I could see over the pond dam, but no one is that lucky right? Neither was I. I picked up the feathers to show my misfortune and I had cut at least two tail feathers almost at the base. I don't think I like to shoot strutting turkeys facing away. The position of their body can't always be determined as they may turn the fan one way or the other. I think next time I'll draw while he's strutting away, but wait to shoot when he turns broad side.
---
APRIL 27 – MAY 05, 2001
LOCATION: BLACK HILLS SOUTH DAKOTA, MELVERN KANSAS
PARTNER: DAD, SHANE BERRY, MIKE WOLF
CALLS USED: ROHM SLATES AND DIAPHRAGMS
DESCRIPTION OF CALLS: YELPING CUTTING, CLUCKING AND PURRING
Our trip to the Black Hills did not produce a Merriam turkey for my Dad or me. Shane and Mike each killed their first Merriam gobbler. I called in a couple of jakes one afternoon but passed. Dad and I didn't hear any gobblers for two days and finally relocated to the area Mike was hunting after he killed his gobbler. We set up on birds the next two mornings but the gobblers were henned up and we could not get them to cooperate. Dad had to fly back home and Shane, Mike and I came through Kansas to hunt on our way back. Shane had some friends in Melvern, Kansas and we arrived there on May 3. The same evening Shane bagged a nice tom weighing 23 pounds. The next day we heard turkeys everywhere and saw several turkeys on our way in and out of the pastures. Mike and I tried to tag team a group of gobblers after our early morning hunt and when we split to cover separate sides of a water hole. Cows in the pasture came to the waterhole and ruined any chances I had at getting the birds to come my way. As the birds made their way around toward Mike, I could see him inching toward his final setup. I watched as he made a couple of yelps to draw three nice toms his way. He picked the largest tom out and when he shot the birds all went the other way. Boy, I had to start wondering what my chances were of getting a bird on this trip. Already having traveled about 3000 miles, I was in desperate need of a tom! In the evening Mike would be my guide. We set up on the same flock we had seen the previous morning. We called in 7 or 8 jakes, but the best bird that began gobbling would not show. We heard him all the way to roost and knew where he would be the next day. The next morning we set up in a position so as not spook the turkey and could not even hear him gobble for the wind. We called for a while but eventually gave up to go to try a different area, which had not been pressured. We rode around and saw several birds in the newly planted cornfields and I decided to make an all out effort to kill a bird. Mike and Shane let me out of the truck before noon at a location where several gobblers had been seen. I set up along the west side of a creek overlooking a newly planted cornfield. I had only been calling a half hour when I spotted a nice gobbler crossing the field in front of me. He was paying no attention to my calling. I had planned to locate where he was but didn't want to upset the area any more than I had to. After he had made his way across the field, I decided to relocate. As I stood up, I spotted another nice gobbler coming my way. I sat back down and when he finally saw the decoys wouldn't come any closer. He was about 50 yards and detoured into some thicker brush. I waited about a half hour and then decided to relocate. When I was finally set up a Jake had approached to my left and saw me about the same time I saw him. He detoured well around and in front of me as if he knew I would have shot him! No sooner than he had passed in front I saw another gobbler working up the field edge I had just left. He made his way to within 10 yards of my first setup. Boy this is just not my day! There were two hens, which had met him in front of the previous blind, and he stayed back and forth strutting along the edge for almost two hours. At this point I had decided to try and sneak around the field staying in the creek bottom and coming out just above where he was. I was successful for the most part as I climbed out of the creek bank and crawled to where I could see I noticed a third hen had joined the two. They came within 15 yards of me but there was no gobbler. I slipped back down in the creek to work my way back around. I climbed out after about 100 yards and saw the gobbler down the edge below my original setup. I then begin to go back and slip farther down the edge. When I came up this time, I could see it was a Jake. Boy I was working more than I ever have to kill a bird and nothing was going my way. I slipped back down in the creek and relocated at the mid point between the original setup and my second set up. After a few minutes I began to see several birds out in the large field coming across. I could tell one of them was a nice gobbler. I called and it seemed as though they all were attracted to me like a magnet. When the gobbler had made his way to within 30 yards I took a shot and finally ended my long overdue hunt. The bird had a 10-inch beard with ¾ inch spurs but weighed 21 pounds. This was within about 10 minutes of the birds going to roost. At least the ride back to Georgia wouldn't be so long!
---
MAY 13, 2001
LOCATION: TWIGGS COUNTY, PRIVATE LAND
PARTNER: DAD
CALLS USED: ROHM SLATES AND DEADLY TRIPLE DIAPHRAGM
DESCRIPTION OF CALLS: YELPING, CUTTING, CLUCKING PURRING
DESCRIPTION OF HUNT: MORNING HUNT, CALLED 2 GOBBLERS AND 5 JAKES
Dad had hunted the clear cut where we had previously killed birds and had seen several nice gobblers so we decided to try our luck again. This time we decided not to worry with the camera as the season had been dismal each time we had tried to video. Dad set up on the hillside overlooking the clear cut and I set up on the edge of the food plot where we had previously killed the birds. He could see where I was and I could see where he was but we were 300 to 400 yards apart. I could see some jakes coming across the clear cut and could tell one of the birds was a nice gobbler. They came to the edge of the food plot but did not want to come out into it - probably because it was wet. Eventually a couple of jakes came within 5 steps of me and returned to the other birds. The birds made their way around the brush piles where we had set up previously. After they had disappeared, I waited for about an hour. I stood up and could see one bird sitting on a log pluming himself so I sat back down. I waited another half hour and decided to try and slip around the lower edge and get the brush pile between them and me. I finally had worked my way and was at the brush pile. I ease up to look and all the birds were within 30 to 40 yards. I couldn't believe I had slipped up that close on the turkeys. I'm not one for ambushing turkeys, but this was an accomplishment that couldn't go without a shot. I ease back down and crawled a few more feet to get a good shooting rest position. I glassed the birds and picked out the largest gobbler. When he cleared some brush I shot and fortunately mad a good 45-yard shot. Another 10-inch beard and about 1 inch spurs. The season was coming to an end, but I was one shy of my limit.
---
MAY 15, 2001
LOCATION: TWIGGS COUNTY, PRIVATE LAND
PARTNER: ALONE
CALLS USED: ROHM SMALL SLATE
DESCRIPTION OF CALLS: YELPING, CLUCKING AND PURRING
DESCRIPTION OF HUNT: PM HUNT CALLED 1 GOBBLER
Dad and I had previously seen a nice gobbler on this property and with it being the last day of the season I thought I might catch him out on the power line. I ease up the power line glassing as I went. I figured he might be in the bottom since it was a really hot day. As I crested the hill overlooking the bottom I saw two gobblers. One appeared to be a Jake and the other a nice gobbler. I backed up and slipped to the edge of the woods. I set out a decoy and backed up into the edge of the woods. I clucked a few times loud enough for him to hear and put the call down. After about 15 minutes I did it again and let out a few soft yelps – and put the call down. After thirty minutes I did the same. When I had sat down my plan was to give him an hour and if he hadn't shown himself, I would ease back out on the power line and glass the bottom again. After 15 more minutes I looked up and he was creeping toward my decoy ever so cautiously. I waited until he went behind a tree that was in front of me and then I eased the gun up. When he came out at about 15 yards I shot and ended what had been a very tough season. This bird sported a 10-inch beard and ¾ inch spurs. Boy there's nothing better than ending a long season by killing a bird on the last evening of the last day!
---
THE END
Return to Turkey Page
Return to Derek's Home Page