TURKEY HUNTING
VIDEO/HUNTS FOR 2003
BY
DEREK FOWLER
---
MARCH 23, 2003
LOCATION: BALDWIN COUNTY, BHC PRIVATE LAND
PARTNER: DAD
CALLS USED: SMALL ROHM SLATES, DEADLY TRIPLE CUTTER DIAPHRAGM
DESCRIPTION OF CALLS: YELPS, CUTTING, CLUCKING, PURRING
DESCRIPTION OF HUNT: AM HUNT CALLED IN 1 HEN AND 1 GOBBLER - KILL

Opening day brought several gobbles, but it was not until this day that I made the hens work for me. I set up on the far corner of my hunting club to allow myself room to work back without spooking any turkeys. When daylight broke, there were several gobbles around, but they seemed to all be down on the beaverpond swamp. I hesitated to move, but the gobbles won out. I set out to move a couple of hundred yards closer, but eventually moved within about 100 yards of the gobbling tom. As soon as I sat down at a previously made blind, the bird stopped gobbling. I doubted my decision for about 30 minutes until I saw a hen working along the edge of the swamp. I softly called to her and she gradually turned and began heading my way. She was within 25 yards of me before I saw the tom which was strutting behind her a good 75 yards. Boy this is perfect I thought, a hen which hopefully will feed right past me and the tom to follow. Well, as it normally goes, or doesn't go, the hen stopped within about 20 yards of me and would not budge until she located the hen which she had previously heard. She stayed there a good 8 minutes or so as the gobbler inched his way closer. As she began her inquisitive clucks, the tom became a little uneasy. He was within 50 yards, but not where I wanted to shoot. He managed to make it a few more yards when she decided to turn and head back toward the direction she came. It was now or never if I wanted the tom. I held the bead just below his head and when I fired he dropped. It was a 45 yard shot and probably on the verge of my limitations with the Mossberg 835 but nevertheless, the task was completed. The bird weighed approximately 20 pounds but had only an 8 inch beard and 1 inch spurs.
---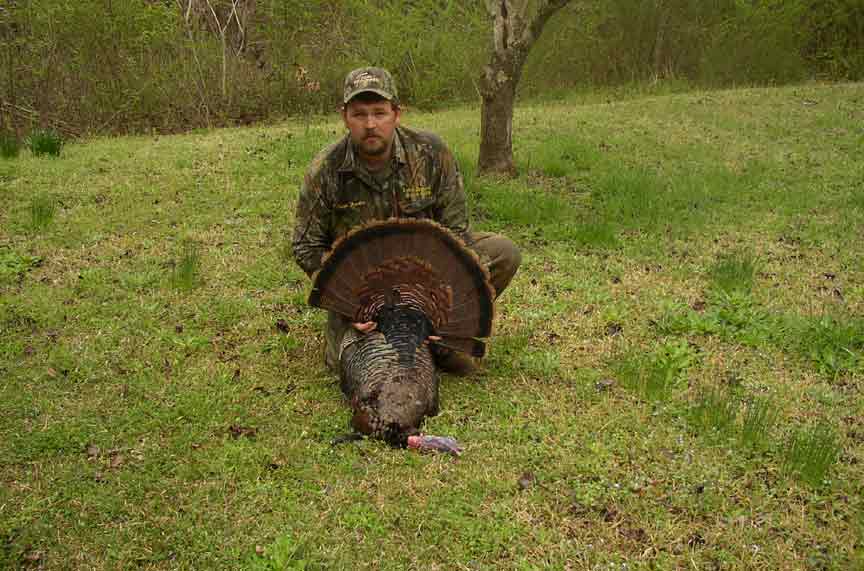 ---
MARCH 28, 2003 VIDEO HUNT #1
LOCATION: JASPER COUNTY, PRIVATE LAND
PARTNER: DAD
CALLS USED: SMALL ROHM SLATE, DEADLY TRIPLE CUTTER DIAPHRAGM
DESCRIPTION OF CALLS: YELPING, CUTTING, CLUCKING, AND PURRING
DESCRIPTION OF HUNT: MORNING HUNT CALLED IN 1 HEN, 4 JAKES AND 1 GOBBLER - KILL

Dad and I visited the Cullum property to try to get some revenge on the bird which I had missed on the last day of the 2002 season. We set up at our routine spot in hopes of getting some good video. First light brought a couple of gobbles from beyond the creek bottom. We called loud and seemed to be getting a response. The bird seemed to have a hen with him because it took a long time to get him headed in our direction. As he approached the pasture edge he seemed to hang up and just would not enter the field. A hen began clucking behind us and eventually came within a few feet of us. She made her way around our left side and when we finally saw her noticed that she sported about an 8 inch beard. As she made her way out into the field, we noticed 4 jakes which had entered the field to our right and were making their way toward our decoys. Boy all these turkeys and decoys should make the gobbler come in with no problem. We had 3 hen decoys, 2 jake decoys 4 jakes, and 1 hen all helping lure the gobbler in. When we first saw him, he had climbed on a mound on the edge of the pasture in front of us as if to show he were king. After seeing the sight before him, he started approaching, but still very slowly. He made it to within Dad's range and the rest is history. Although the bird responded as an old bird, he appeared to only be 2 years with the weight about 17 pounds, beard at 8 inches and spurs about 1 inch.
---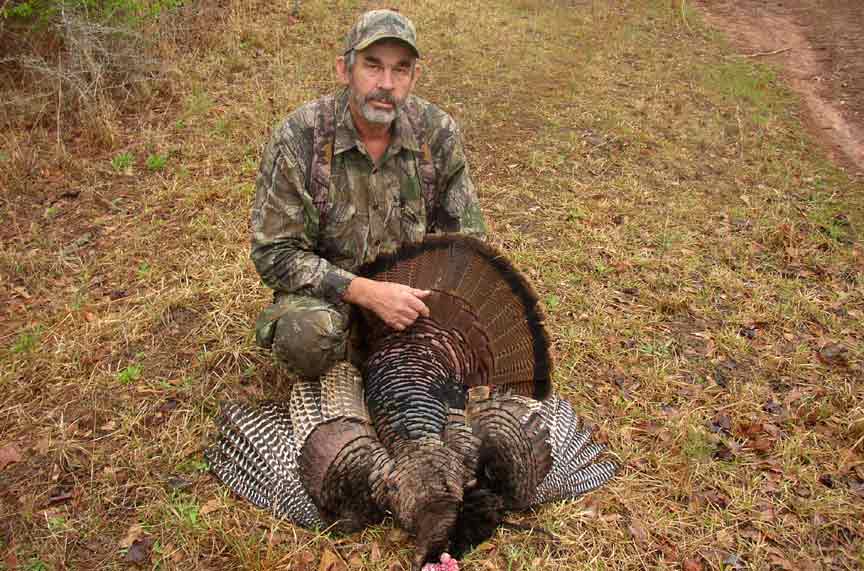 ---
MARCH 29, 2003 VIDEO HUNT #2
LOCATION: BALDWIN COUNTY, BHC PRIVATE LAND
PARTNER: DAD
CALLS USED: SMALL ROHM SLATE, DEADLY TRIPLE DIAPHRAGM
DESCRIPTION OF CALLS: EXTREME YELPING, CACKLING, CUTTING, CLUCKING
DESCRIPTION OF HUNT: AM HUNT CALLED IN 8 HENS, 3 GOBBLERS

Dad and I returned to our hunting club in Baldwin County. The birds had eluded my Dad a couple of times by going across the beaverpond swamp, so I elected to make my way around the swamp and set up on the opposite side. I did so and first light made for an entire swamp of yelping cutting cackling and gobbling birds. The first hen flew down and made her way past me. This was incentive enough to hope the rest of the birds would do the same. The hens continued to call and it was all I could do to try and out call them. When they finally flew down they were across 3 or four runs of the creek and were making their way toward my Dad. Well at least one of us would see them if they went either way I thought. After about 30 minutes the birds were visible across the swamp and were working their way back toward me. I continued to call but toned it down somewhat. There were 6 or 8 hens and two strutting gobblers that I could see at this time. The hens were definitely coming my way and the gobblers were sure to come in range. Each time the hens pitched over a run in the creek, they cackled and the gobblers would gobble. They finally came across the last creek run and I set the camera to the area I would shoot and waited patiently with an itchy finger as the gobblers approached. I drew aim on the first gobbler that made his way into the opening. As I squeezed the trigger birds seemed to go everywhere. In watching the video, it appeared that there were actually 3 gobblers with the third being farther in the background. At any rate, the bird was only fair in weight at about 17 pounds and only an 8 inch beard and 1 inch spurs.
---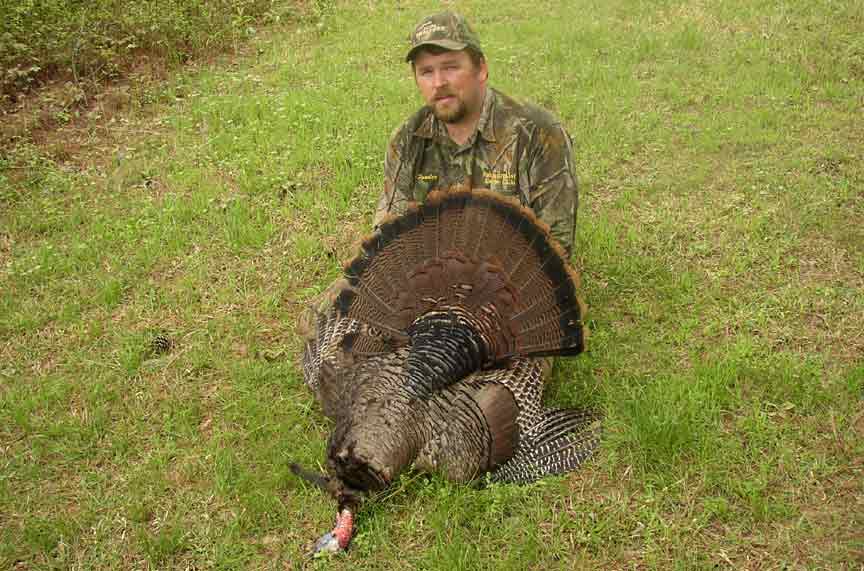 ---
APRIL 2, 2003 VIDEO HUNT #3
LOCATION: BALDWIN COUNTY, BHC PRIVATE LAND
PARTNER: DAD
CALLS USED: ROHM SMALL SLATE, DEADLY TRIPLE DIAPHRAGM
DESCRIPTION OF CALLS: YELPING, CUTTING, CLUCKING
DESCRIPTION OF HUNT: PM HUNT CALLED IN 1 HEN AND 1 GOBBLERS, BOW MISS GOBBLER 4 TIMES

Boy this is a hunt I'd rather forget. After killing a couple gobblers with my shotgun, I set out to get my third bird with the bow. I shot my bow before leaving our camp house and had to adjust my sights for reasons unknown. I was attempting to shoot mechanical broadheads for the first time. I purchased some NAP spitfire broadheads and they were shooting great. After getting my sights adjusted I hit within a 3 inch area at 20 yards on three different shots. I made my way down the road only to setup a couple of hundred yards from camp. A small food plot was plush and an excellent place to set up. After setting two decoys up at 20 and 30 yards, I settled in for a relaxing evening, since I really didn't expect to hear any gobblers. After about 30 minutes and to my surprise, a gobbler answered about 300 to 400 yards down the road. Upon his next gobble it appeared that he would come up the road just perfectly to allow me to get some video and hopefully an easy shot with the bow. Well, it was going perfect until a hen appeared behind me and came into the plot about the same time the gobbler appeared. She made her way right past my decoys and stopped the gobbler just out of range. Well, the gobbler was probably on my extreme limits when I took the first shot. The first arrow appeared to fly wildly as my bipod must have hit something as I released the arrow. I had to stretch to shoot around a tree that was close in front of me. The shot did not spook the birds but for only a few seconds as they soon started to feed again. After some time I had the second arrow nocked and was ready to try again. In the excitement, I neglected to realize that the bird was beyond my range and was only inching farther as he strutted back and forth. The second shot had good alignment but fell just under his breast. After reviewing the video it appeared as though he was approximately 35 yards at this point. The third shot, I manually held high thinking he was about 35 yards, but instead he was probably 45 yards. The shot again sailed low. Well, I was down to 1 arrow and needed to do whatever I could to redeem myself, so I estimated the distance at about 45 yards and readjusted my sights. The arrow again flew low at a bird that was probably over 50 yards. Lessons learned here………….Limit your shot to your maximum accurate practice range and carry a range finder if you can't accurately judge your distances. You never can predict where you might have to shoot the gobbler, but if the gobbler had came to my decoys………if the hen had not spoiled the hunt……..well if ………..that's hunting!
---
APRIL 15, 2003 VIDEO HUNT #4
LOCATION: TWIGGS COUNTY, PRIVATE LAND
PARTNER: DAD, JIMMY DAVIDSON, JOHNNY DAVIDSON
CALLS USED: SMALL ROHM SLATE, DEADLY TRIPLE DIAPHRAGM
DESCRIPTION OF CALLS: TREE YELPING, CLUCKING, CACKLING AND CUTTING
DESCRIPTION OF HUNT: AM HUNT - CALLED 2 JAKES – FIRST GOBBLER / JAKE KILL

There's nothing better than introducing a youth to the outdoors and sharing the experience of a successful hunt and first kill. Johnny Davidson was 9 years old and although had killed a couple of deer had never killed a turkey. We set up in the edge of a plowed field where they had been seeing a nice gobbler. The gobbler sounded off but instead of in front of us where he had normally roosted, he was behind us to our right. Hens began yelping and we knew it would be a tough chore. One of the hens flew out of one tree behind us and into another tree farther from the gobbler. This might be in our favor I thought. We continued to call but the gobbler remained on the roost awaiting for the hens to come to him. In the mean time, a jakes and a hen had flown down into the field in front of us. The jake was approaching the decoys fast and a decision had to be made pretty quick. Johnny's granddad needed little thought before he told Johnny to shoot the bird. With help from his granddad, Johnny sitting directly in front of Jimmy shot the bird and dropped him in his tracks. He ran out to the bird with a big "yeehaw". After some talking we attempted to set back up and call the big bird in, but apparently we had made too much noise and the gobbler ould not respond any more. Nevertheless, success was at had……..Johnny's first turkey with excellent video of the entire hunt.
---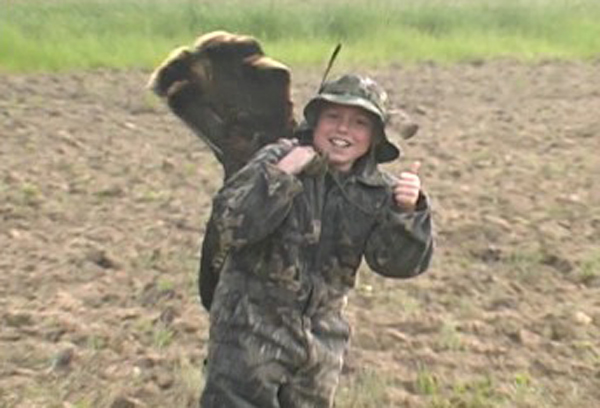 ---
MAY 4, 2003
LOCATION: TEXAS, YOUNG COUNTY, ALLEN RANCH
PARTNER: ALONE
CALLS USED: SMALL ROHM SLATE, DOUBLE TROUBLE CUTTER DIAPHRAGM
DESCRIPTION OF CALLS: YELPING, CLUCKING, PURRING
DESCRIPTION OF HUNT: AM HUNT - CALLED 4 HENS AND 1 GOBBLER NO VIDEO

After a couple of days attempting to video and learn the land I elected to not to carry the camera on this day. I had seen a nice gobbler the day before but the bird was alone and would not respond to any calling. The birds seemed to be less vocal that what we had heard to expect of Rio's in Texas. I made my way to the top of the hill to overlook the area I had seen the gobbler travel the day before. He had not roosted in the same place and after seeing 3 hens with no gobbler present, I decided to make my way over the hill to check out the pasture on the other side. When I did I saw a nice gobbler strutting with four hens. I made my way down the hill without being seen and set up as near the pasture as I could. When I called I could not see the birds but knew I was within about a hundred yards. Three of the hens came along the fence toward me but the gobbler and other hen must have went the other way. I didn't call any more so the hens would continue to work their way farther so I could relocate closer to the fence and try and get a visual on the gobbler. I did but by this time, the gobbler was out in the middle of the field about 300 yards. I called but the gobbler was only interested in the hen who was moving directly away from me. They had made their way beyond the peak of the hill and out of sight when I decided to relocate around to the left side of he pasture. When I stood up, I could still see the gobbler with my binoculars but now he was coming back. I sat back down and began calling again. The gobbler came back to within a couple hundred yards and turned into a small island of trees which I later found to be a water hole. I watched and called for another half hour but the bird did not appear. Finally I glimpsed him but he only came out and went back in again. I decided that if I was going to get this bird I was going to have to get closer. I eased up and made my way around the left side of the field. As I eased closer to the island, the bird started gobbling again. This was a big help so I could keep tabs on where he was at while I tried to get close to the fence and island as I could. I finally set up and made some soft calls. He didn't answer, but he did come to the top of the island bank and then back down again. Well, I had given this bird over two hours so I decided to get to the island and set up where I would be sure to get a shot……..only if I didn't spook him. When I made it to the island, I crawled the last 15 yards to find the bird feeding near the edge of the waterhole. I debated the shot for a minute or so, but decided that I would have to make a better calling attempt on my second Rio that this one was going on the table! The bird weighed about 17 pounds but had a nice 10 ½ inch beard and 7/8 inch spurs.
---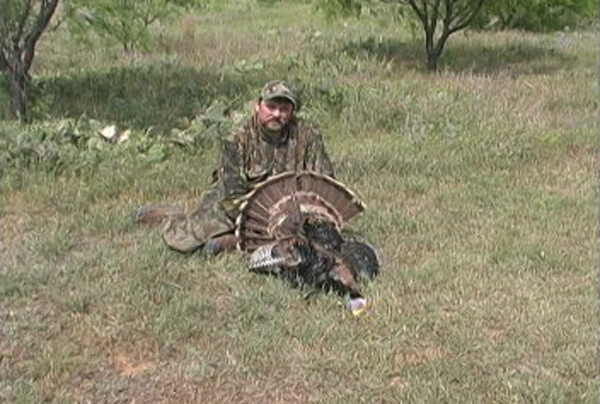 ---
MAY 4, 2002 VIDEO HUNT #5
LOCATION: TEXAS, YOUNG COUNTY, ALLEN RANCH
PARTNER: DAD
CALLS USED: SMALL ROHM SLATE, DOUBLE TROUBLE CUTTER DIAPHRAGM
DESCRIPTION OF CALLS: SOFT YELPING, CLUCKING, PURRING
DESCRIPTION OF HUNT: MID-DAY HUNT - CALLED 1 HEN AND 1 GOBBLER

After cleaning my gobbler Dad and I went to try and call a gobbler to a waterhole he found the day before. He had heard a gobbler there the day before but was not able to call him in. We had attempted to set up away from the waterhole, but my best judgement told me to get closer to it. We set up directly above the waterhole and the bird gobbled before I ever made a call. I called softly and in no time I saw him at about 130 yards. He didn't act too interested, but slowly made his way toward the larger oak trees to get some shade from the sun. In the mean time, a hen made her way past us to the water and waded along the edge around the opposite side. The gobbler hassled from the heat and eventually began to make his way to the waterhole. We had glassed him enough (we thought) to see that it was a jake and Dad had propted his gun up side of a tree. The bird came in to the water and had several drinks before he made his way around the opposite edge where he exited upon the high bank. It was only at this time that I glassed him a little closer and noticed that he had spurs better than the gobbler I had killed that morning. I told my Dad but the bird was not in a position for him to shoot. We tried to call him back to no avail. After about a half hour we decided to leave but thought we slip up to the end of the waterhole to look for the gobbler. As I stood there waiting on my dad to arrive, I saw the hen coming back to the water. We stood there and watched her get into the water again and became so intent on watching her, that we neglected to see the gobbler coming back behind her. I was attempting to video her and as she left the water hole, I cut the camera off and turned to see the gobbler within 15 yards. I told my dad to move backwards so he could shoot, but he had to get low to the ground to get a clear shot and still had to thread the shot through some large limbs. The gobbler was apparently too close to get a large pattern on and the shot completely missed him. Well, it would at least be good to get all the stickers out and head back to Georgia where you could sit down without the worry of getting cactus in your butt!
---
MAY 10, 2003 VIDEO HUNT #6
LOCATION: TWIGGS COUNTY, PRIVATE LAND
PARTNER: DAD
CALLS USED: SMALL ROHM SLATE, DOUBLE TROUBLE CUTTER DIAPHRAGM
DESCRIPTION OF CALLS: SOFT YELPING, PURRING AND CLUCKING
DESCRIPTION OF HUNT: AM HUNT - 1 GOBBLER, 2 HENS – GOBBLER KILL - GOOD VIDEO

Dad had fell short of getting a Rio in Texas, but would end the season with a nice bird in Georgia. He had worked this bird the morning before but after the bird seemed to go the other way and become disinterested, left for other chores to do. We set up well before daylight but it wasn't long before the bird gobbled. This was great to be able to work a bird this late in the season that would still gobble good. Two birds gobbled but it was easy to tell the best bird. The bird gobbled well and even after they flew down for a while. They worked away from us and the gobbling stopped. After about 30 minutes we almost decided to move and in fact had gathered our gear up to head across the small opening and try to work a little closer to him when we heard him gobble. He appeared to be getting closer, so we sat back down and made some more soft yelps and clucks. I searched the end of the pasture and beyond for hopefully a glimpse of him coming back. Almost to my surprise, I saw a turkey standing and then moving off the end of the pasture from right to left. I kept watching and then saw another. They both appeared to be hens. Then I saw the gobbler strutting. I knew it would be wise to call at this point and hopefully get the hens to come directly in so they wouldn't come up to our side or behind us. I purred and clucked on both my small slate and diaphragm. In trying to tell dad where he was I lost sight of the birds. They either were moving away or toward us since I could see in the direction they were heading. All at once I spotted a gobbler head coming into the pasture opening directly toward us and by now he had seen our decoys. He came in as though he was a 2 year old. Sometimes it's easy………but patience is usually 99 percent of the reason for success. Dad shot the gobbler as I putted to get him out of strut. He weighed over 19 pounds with 11 ½ inch beard and 1 ¼ inch spurs.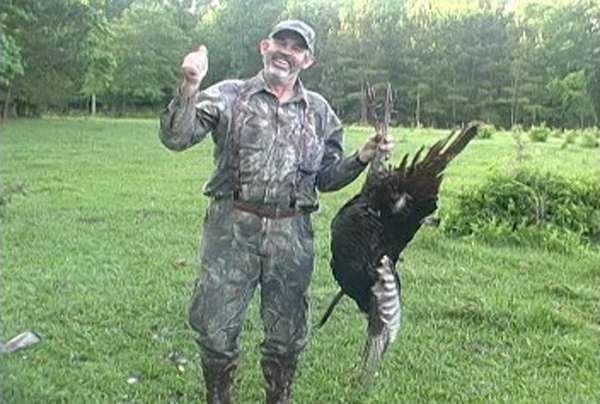 ---
MAY 14, 2003 VIDEO HUNT #7
LOCATION: JASPER COUNTY, PRIVATE LAND
PARTNER: ALONE
CALLS USED: SMALL ROHM SLATE, DEADLY TRIPLE CUTTER DIAPHRAGM
DESCRIPTION OF CALLS: YELPING, CUTTING, CLUCKING, PURRING, AND GOBBLING
DESCRIPTION OF HUNT: EVENING BOW HUNT CALLED IN GOBBLER - MISSED

I returned to the Cullum property to end the season. Still in search of a bow kill, I carried my Mathews in search also for redemption from the earlier misses I had in the season. At least here I would have an opportunity to get some good video. I arrived at the property at about 2:00 but it took about an hour to get to the blind location. I slipped around the edges in an attempt to prevent spooking any birds. I finally got set up and still waited about another half hour before calling. When I called I did so conservatively. I sat from 3:00 until 7:00 without seeing or hearing a thing. I decided to call it a season and get some video of myself to help in narrating my season's video. I set the camera up and went through some calling on each of my calls. I yelped and purred on a diaphragm and a slate. I gobbled on my tube and when I did, a thunderous gobble responded back from off the end of the field. I immediately grabbed the camera and reset it up facing the field. I finally gained my composure and made some calls. It wasn't long when I saw him coming. All by himself, I knew my chances to draw and get a shot would be pretty good. As he approached the jake decoys he actually sped up and went right past them. Boy, this wasn't what I expected. He continued to face me and did not allow me to draw. He continued toward the hen and then back toward the jakes. I finally set the camera and concentrated on the draw. As I moved my hand back from the camera, he must have caught some movement. He became a little nervous and started to walk away. I knew it was now or never. I ease my bow up and began to draw as slowly as I could. By now he was pretty much out of my expected shooting range and when I shot, again as so many times this season already, the shot fell low. I wasn't sure at the time because the bird flew toward the field end and up into a tree but didn't light. He pitched back down to the ground and for a few minutes I thought I might have killed him. After further search and finding my arrow, I realized it would be another season before I could again resume my quest for another turkey with the bow. The season was now over but there was not doubt it had been an eventful season. I had seldom hunted that I didn't see or hear a turkey. And that is what it's all about!
---
THE END
Return to Turkey Page
Return to Derek's Home Page