TURKEY
HUNTING
VIDEO/HUNTS FOR 2015
BY
DEREK FOWLER
---
MARCH 21, 2015 VIDEO HUNT #1
LOCATION: BALDWIN COUNTY, PRIVATE LAND
PARTNER: DAD AND CHASE
AM HUNT CALLED IN 2 HENS AND 1 GOBBLER
Dad, Chase and I hunted our Baldwin County club on opening day. There were several birds gobbling but nothing very close. After about an hour one bird seemed to be headed our way. The gobbler followed a hen up the road to our right from the beaver swamp and strutted to the edge of the food plot. A hen ahead of him came on up to the decoys and became a little nervous. Although the gobbler was in gun range he wasn't clear for a shot by Chase. We had planned and expected him to come to the decoys and never prepared for the possibility of shooting to the right. He turned and slipped back into the woods on the end of the plot and took his hen with him. This was some good footage but the first of many unclosed deals we were to have during this 2015 season. See the footage on my 2015 video.
---
MARCH 22, 2015 VIDEO HUNT #2
LOCATION: TWIGGS COUNTY, PRIVATE LAND
PARTNER: DAD
AM HUNT CALLED IN 5 HENS
The next morning Dad and I made a hunt on my Twiggs County property. Again the only gobblers that could be heard were too far to be expected to come in. We heard several hens in front of us and hoped there might have a silent gobbler with them. They eventually came in and there were 5 of them but no Gobblers. As soon as they had left Dad and I slipped out to go to Church. See the footage on my 2015 video.
---
MARCH 28, 2015 VIDEO HUNT #3
LOCATION: JASPER COUNTY, PRIVATE LAND
PARTNER: DAD AND CHASE
AM HUNT CALLED / SEEN 3 GOBBLERS, 7 JAKES AND 2 HENS
Dad, Chase and I travelled to Jasper County for the second Saturday of the season. We set two blinds up side by side with me in one and Dad and Chase in the other. We could hear 3 birds gobbling but they were all across the creek behind us. We had set up in a large field and knew we might need to sit it out for a while. The first birds to show were two hens and they didn't seem too eager to come to the calling. One of the gobblers seem to have made his way from across the creek and was headed up the road to our back right. He hung up or had hens with him and never came in. By now it was mid-morning so we decided to take a break and eat our snack. I continued to watch my left side which was the direction we had expected the gobbler to come from since he never made it up the road. I finally spotted two hens on the far side and about the same time saw two gobblers to my left headed toward them. They strutted for a while but would have nothing to do with coming our way and leaving the hens. After a while I noticed one of the hens had layed down and one of the gobblers climbed on top! This was the first time in my 28 years of turkey hunting I had witnessed this in the wild. The first footage I ever got and it lasted about 4 minutes. We couldn't call the gobblers in but it was an excellent morning with some pretty awesome footage. See this hunt on my 2015 video.
---
APRIL 3, 2015 VIDEO HUNT #4
LOCATION: TWIGGS COUNTY, PRIVATE LAND
PARTNER: ALONE
AM HUNT CALLED / SEEN 7 GOBBLERS AND 2 HENS
I hunted my Twiggs club on this morning. The season was starting to seem like it was going to be a very difficult one so I had taken a vacation day from work and decided to hunt the entire day. In my first setup I called up 2 hens but the only gobbles were in the distance. At about 11:00 I decided to relocate and sit out the afternoon and evening overlooking a pasture. At 12:00 I spotted a nice gobbler coming my way but he turned and stayed in a strip of pines out of the bright sun. At about 5:00 the gobbler came back but hung up in the stand of pines. Soon after this he made a mad dash across the pasture but not in my direction. Puzzled at this I soon understood why. There were three more gobblers that I hadn't seen that had approached him to run him off. They too were too stubborn to call in and made their way across the pasture. See this hunt on my 2015 video.
---
APRIL 4, 2015 VIDEO HUNT #5
LOCATION: WILKINSON COUNTY, PRIVATE LAND
PARTNER: DAD
PM HUNT CALLED 1 GOBBLER
Dad and I had made a morning hunt on our club in Baldwin County. We had heard 4 gobblers but could not get anything to cooperate. We hunted 6 hours and left for home. At this point in the season I think I had seen and called to 18 gobblers and had yet to have one killed on video. That evening I decided that I would make a short hunt at a tract of land in Wilkinson County. Dad went with me and we slipped in to a food plot not far from the truck. After we got set up I called a little and less than a couple of minutes passed when Dad said he seen a turkey at the end of the plot. I called again and he came back into the plot and made his way toward our setup. Within 5 minutes the gobbler was there and the hunt was over. Funny sometimes how you can hunt all day with little success and other days spend 5 minutes and make that average a whole lot less! The gobbler weighed 18 pounds had a 9 inch beard and 1 inch spurs. See this hunt on my 2015 video.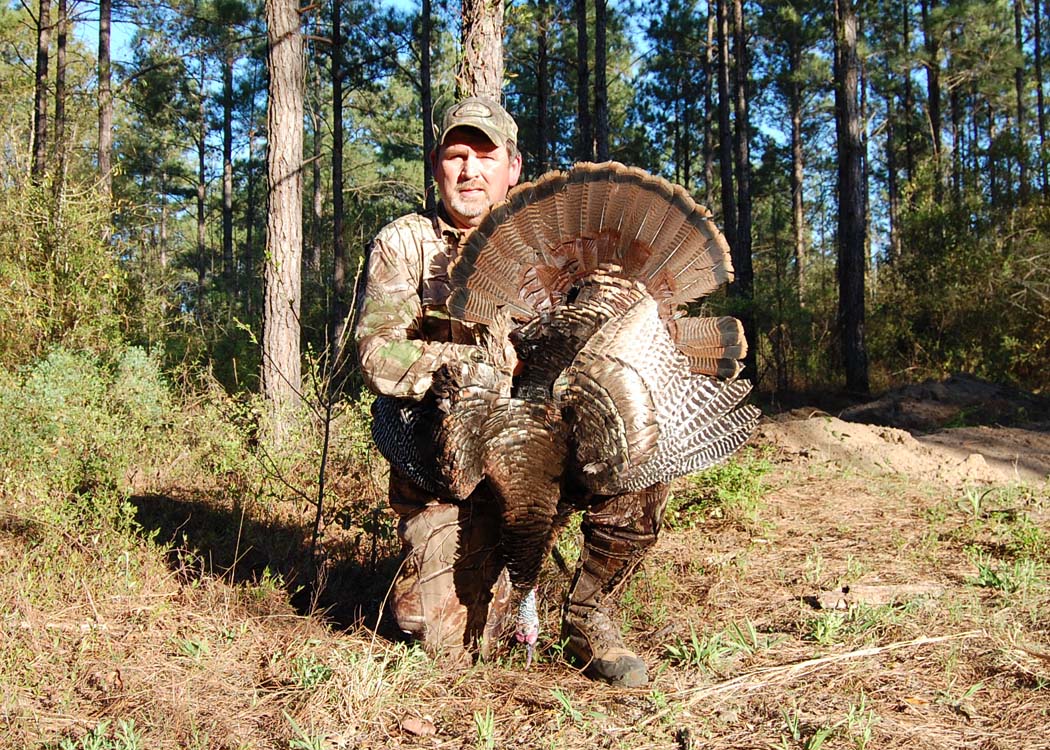 ---
APRIL 12, 2015 / APRIL 17, 2015 VIDEO HUNTS #6 & #7
LOCATION: TWIGGS COUNTY, PRIVATE LAND
PARTNER: ALONE
AM HUNT SEEN 2 GOBBLERS, 1 JAKE AND 3 HENS
AM HUNTSEEN 2 GOBBLERS, 2 JAKES AND 2 HENS
It was a foggy morning but boy were they gobbling! I heard what I recorded as 6 birds gobbling. Two Gobblers made his way across the field and would have absolutely nothing to do with coming my way. A few days later I tried it again with a movable fan decoy. There was also a lot of gobbling activity on this morning on the roost but it soon became quiet after fly down. The birds again came out and were uncooperative. They never really came close enough to see my fan decoy. Later several buck deer came out and did give me some video opportunities. Finally a couple of hens came out and one finally got close enough to see my fan decoy. I tried it out and she came on a rope! She didn't seem to notice or be annoyed by a fan that didn't have a body attached!. Pretty interesting as this will give me some ideas for the future! See this hunt on my 2015 video.
---
APRIL 20, 2015 VIDEO HUNT #8
LOCATION: LAURENS COUNTY, PRIVATE LAND
PARTNER: KEITH SMITH
PM HUNT – CALLED IN 1 GOBBLER
Keith Smith and I hunted some private land in Laurens County on this evening. We set up on the lower end of a hay field which is where Keith felt they would come toward to go to roost. We didn't see any birds when we entered the field but slipped in and set up the blind as quietly and quickly as possible. We waited about 40 to 45 minutes to call and thought we heard a gobble. Soon after, the gobbler slipped into the field and eagerly gobbled as he made his way to us. The gobbler made his way toward us but began skirting around as to avoid the jake decoy. He finally made it within gun range but it didn't appear as though he would get any closer for a bow shot. Before Keith could decide to take him with the shotgun he had slipped a bit too far to risk a shot. See this hunt on my 2015 video.
---
April 26, 2015 VIDEO HUNT #9
LOCATION: TWIGGS COUNTY, PRIVATE LAND
PARTNER: DAD
AM HUNT – CALLED IN 1 GOBBLER
Dad and I would hunt some private property on this hunt in Twiggs County. We slipped in quietly before daylight where Dad had previously made a blind. We thought if we didn't hear one on the roost here we would make our way to the food plot where we had called in a couple of gobblers previously. The first gobble came from in front of us about 2-300 yards. When the bird flew down he sounded much farther but after some excited calling we could tell he was making his way toward us. At this point I was worried that I wouldn't have enough light for the camera when he got there. He made his way around the road in front of us. As he made his way toward the first decoy Dad wasted no time dispatching of him. The bird only weighed 16 1/2 lbs. but had 1 inch spurs and had an 11 inch beard. See this hunt on my 2015 video.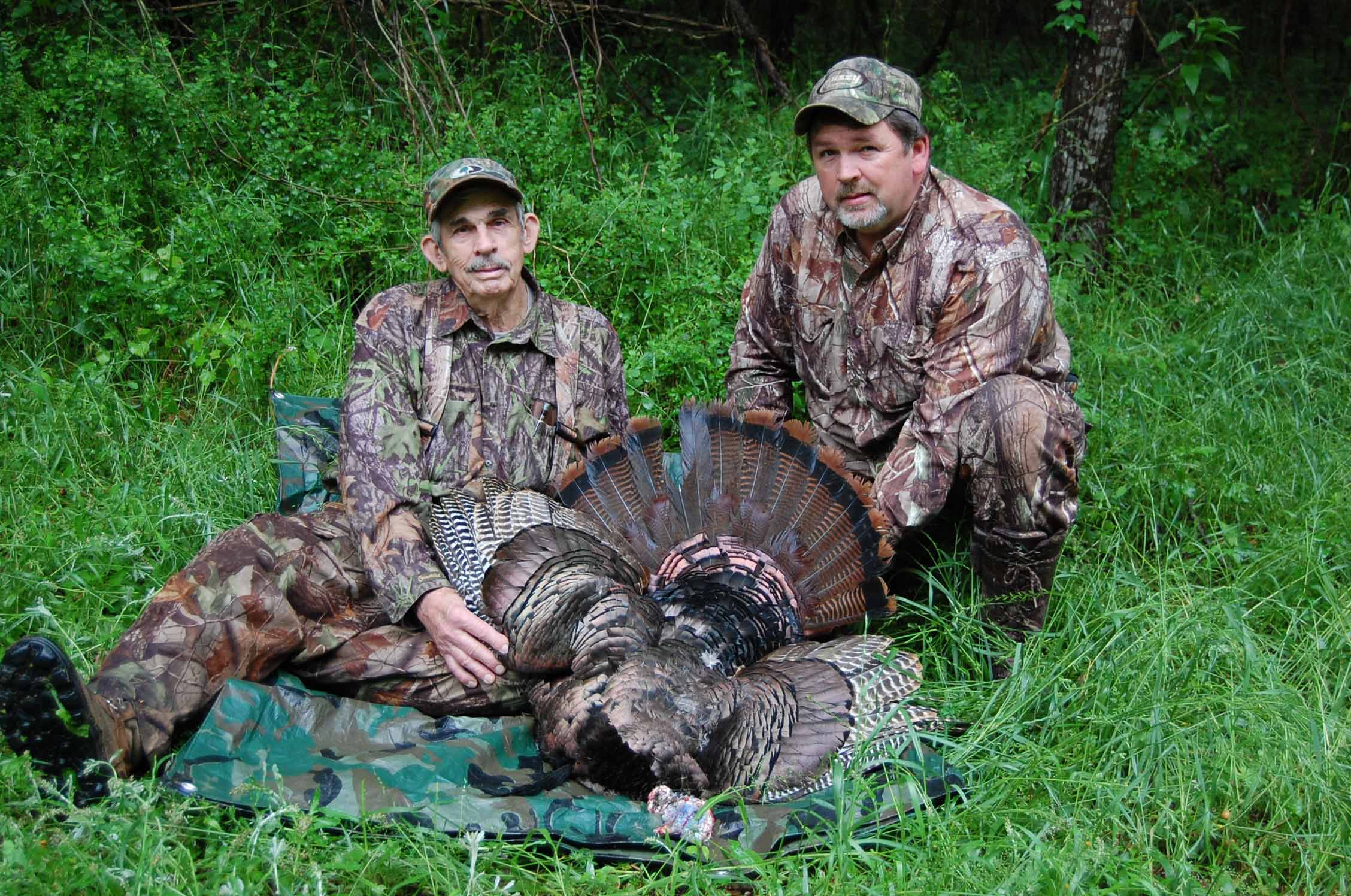 ---
April 30, 2015 VIDEO HUNT #10
LOCATION: TENNESSEE
PARTNER: KEITH SMITH, RAY KELLY
AM HUNT – CALLED IN 2 JAKES
Keith Smith and I decided to make a trip to Tennessee to hunt with a good friend Ray Kelly. With the season winding down in Georgia and the hot temperatures we thought this would be a welcome change. We done some scouting the first evening we arrived and spotted two or three large birds in a large field. We decided this would be the place to be for the following morning so at daylight we had set two blinds up side by side overlooking the area across from where the birds had exited the field to roost the evening before. It wasn't long after daylight two birds flew down and came into the field. As it became lighter we could tell these birds were only jakes. We called the birds across field and got some excellent video as the birds circled and flogged the Avian Jake decoy. See this hunt on my 2015 video.
---
May 01, 2015 VIDEO HUNT #11
LOCATION: TENNESSEE WMA
PARTNER: KEITH SMITH
PM HUNT – SAW NUMEROUS JAKES GOBBLERS AND HENS AND KILLED COYOTE
Keith and I hunted some public land on the next morning. We saw several trucks as we entered the main entrance and started worrying about having a place to hunt far enough away from the crowd. We hunted for several hours but didn't hear or see any. That same evening Keith and I decided to check a WMA out that we had scouted online before travelling to Tennessee. We had a pretty long walk but after viewing the large field we felt we would see turkeys. It was mid evening before the first birds entered the field and it was two jakes. They came out several hundred yards below us. We thought once about taking one if we could get them in for a shot. They never seemed interested enough or felt comfortable coming our way. We eventually saw why. An hour after the birds had made their way back the way they came we saw the rest of the flock come out and make their way around the end of the field. They were almost too far to tell if they were good gobblers but felt assured when we saw at least two of them strutting. We thought we had a chance when they split up. Two of the largest birds that we had finally identified as gobblers were paired up and appeared to be coming in our direction. All of a sudden two Jakes and a hen began running toward the wood line and the hen flew. At that time we saw the culprit coyote. Well we knew it would spoil the hunt but may save a few turkeys down the road so Keith told me to try and call him up for a shot. He didn't come very close but Keith took care of him at over 40 yards. See this hunt on my 2015 video.
---
May 03, 2015 VIDEO HUNT #12
LOCATION: TENNESSEE WMA
PARTNER: KEITH SMITH
AM HUNT – CALLED IN TWO GOBBLERS
Keith and I hunted with Ray and a good friend of his Jason Layne on the next morning. We heard a couple of gobblers but were not fortunate enough to be close enough and call them up. That same evening Ray, Keith and I decided to go back to the first field we had hunted in hopes a good bird would come in. We called in the same jakes and got more good video but didn't hear or see any mature gobblers.
On this day we would make our final hunt back at the WMA where we had seen the most birds. We packed our way nearly a mile it seemed with the large pop up blind, decoys, guns, chairs, camera, tripod and other gear. Most people don't see all the gear we take when they watch these videos! It doesn't take all this gear to kill a turkey but we try to do as much as we can to even the odds! We set up the blind and decoys on the back end of the field in the dark light as quietly as we could near where we had previously seen the birds. As daylight approached we could hear several gobblers all around us but the closest was maybe 2 - 3 hundred yards in front of us. After fly down it didn't seem the closest bird was going to be eager enough to come. Finally we saw him and figured he may have been in the edge of the field for quite a while as the wood line was much farther than we had thought. We couldn't call the bird up the edge but he came in from inside the wood line. We thought he might come out again when he got to the opening where he could see the decoys but instead it appeared as though he was going to walk right past. Keith decided it was now or never and took the shot. We took a break and cleared some brush in the direction he had shot and relocated the decoys a bit. Since we had heard a couple of gobblers behind us we thought there would still be a good chance to get another one in for me. After some calling and about an hour later Keith spotted a gobbler slipping in to our right through the woods. I called a little to try and get the bird to come out of the woods into the field but it appeared again that he would stay inside the woods and pass right by. When he made it to the spot Keith had shot his I took the shot. It was now a done deal. We both had our Tennessee gobbler and could get out and make it back to Georgia by late evening! Keith's gobbler weighed 19 lbs. 6 ounces, had a 9 ½ inch beard and 1 inch spurs. My gobbler weighed 19 lbs. 11 ounces, had a 10 inch beard and 7/8 inch spurs. See this hunt on my 2015 video.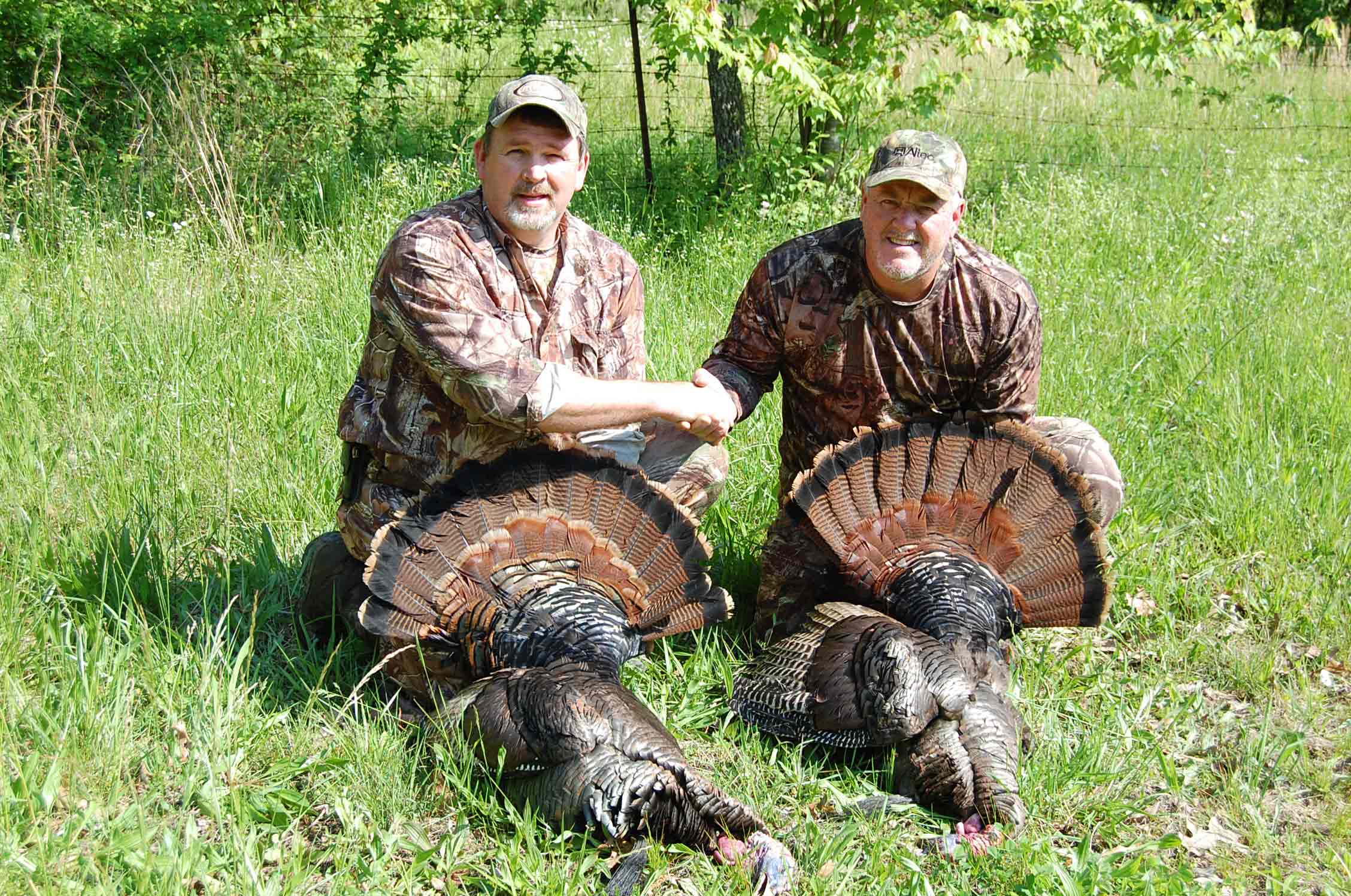 ---
MAY 4, 2015 VIDEO HUNT #13
LOCATION: TWIGGS COUNTY, PRIVATE LAND
PARTNER: ALONE
PM HUNT – CALLED 1 GOBBLER
On this day I decided to hunt some property close to home. The birds have become so wise that it was nearly impossible to call them up so I decided to keep the calling to a minimum and get in the direction they would travel to roost. I clucked and purred very little but never heard a sound as this bird came over the hill as I had expected on his way to roost. I purred a bit more getting him to come just close enough for a shot. This was a very nice late season gobbler. He only weighed 17 lbs. 4 ounces but he had a 10 ½ inch beard and 1 3/8" spurs. Although I didn't get my limit in Georgia this was a good bird to close on as the rest of the season was a bust. See this hunt on my 2015 video.
---
THE END