TURKEY
HUNTING
VIDEO/HUNTS FOR 2016
BY
DEREK FOWLER
---
MARCH 19, 2016 VIDEO HUNT #1
LOCATION: JASPER COUNTY, PRIVATE LAND
PARTNER: MATT AND POWELL GOOLSBY
AM HUNT CALLED IN 1 HEN AND 3 GOBBLERS
This hunt would be my second hunt in two years attempting to help Matt Goolsby get his son Powell his first turkey. We set both pop up blinds up on the end of a large food plot and waited for daylight. It wasn't long before we heard a gobble and eventually another all behind us. We could tell the closer bird was definitely within calling range so I soft called to let them know we were there. The first bird to arrive came into the left corner of the field. As I looked through my binoculars I could see a nice beard and whispered to Matt that I thought it was a gobbler. As the bird cleared the woods and made it into the field we could tell that it was a hen. The gobblers continued to gobble behind us but soon became quiet. They either had hens or were sneaking in. In no time I heard them and caught a glimpse hard to my left. There were three very nice gobblers heading straight to the decoys. I whispered to Matt and Powell to get ready. Once the gobblers got to the decoys we told Powell to pick one out and shoot. We encouraged him to wait until they were far enough away from the decoys and each other so as not to hit but one. We waited and waited and finally Powell shot and tool what appeared to be the best bird. This was Powell's first turkey and a very good one. This was excellent footage as well. The gobbler weighed 17 ½ lbs. had 1 3/16 inch spurs and a 10 inch beard. See the footage on my 2016 video.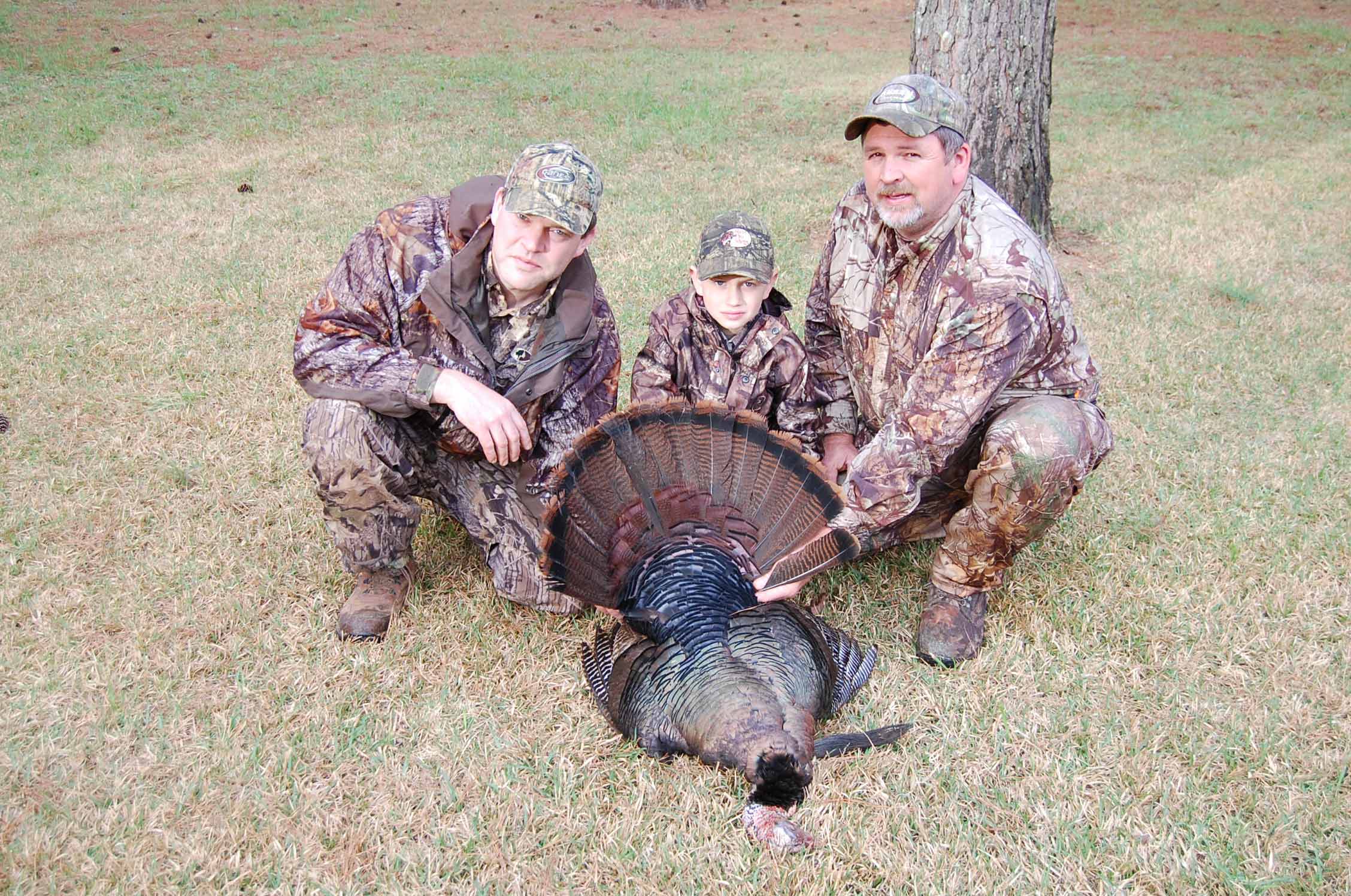 ---
MARCH 27, 2016 VIDEO HUNT #2
LOCATION: TWIGGS COUNTY, PRIVATE LAND
PARTNER: ALONE
AM HUNT CALLED IN 1 GOBBLER
This would be my first hunt alone and I didn't have a lot of incentive for killing a turkey. My plans were to listen and try and develop a strategy for the next hunt. The gobblers are usually roosted across the property line and are covered up with hens making it very difficult to call up. I only heard a couple of gobblers and they were not really close enough to try and call in. I didn't call too aggressive but enough to possible get their attention. I set for a couple of hours and was about to pack it in when I thought I heard something. I leaned up and looked out the left window of the blind to see a gobbler already at my decoy at 5 yards. I don't really know where he came from but I had set the hen decoy high on the hill right next to my blind so any bird coming up the road to my left and front could see. I set the jake decoy in front thinking that would be the most obvious direction the gobbler would come. I watched and videoed the gobbler at 5 yards for about 20 minutes. I could see it looked like only a 2 yr. old and would have let him go to grow if it hadn't been for protecting my Avian hen decoy! The gobbler continued molesting my decoy and after a while longer I decided to get my first bird of the season. The gobbler weighed 17 lbs. 4 oz., had 7/8 inch spurs and a 9 3/4 inch beard. See the footage on my 2016 video.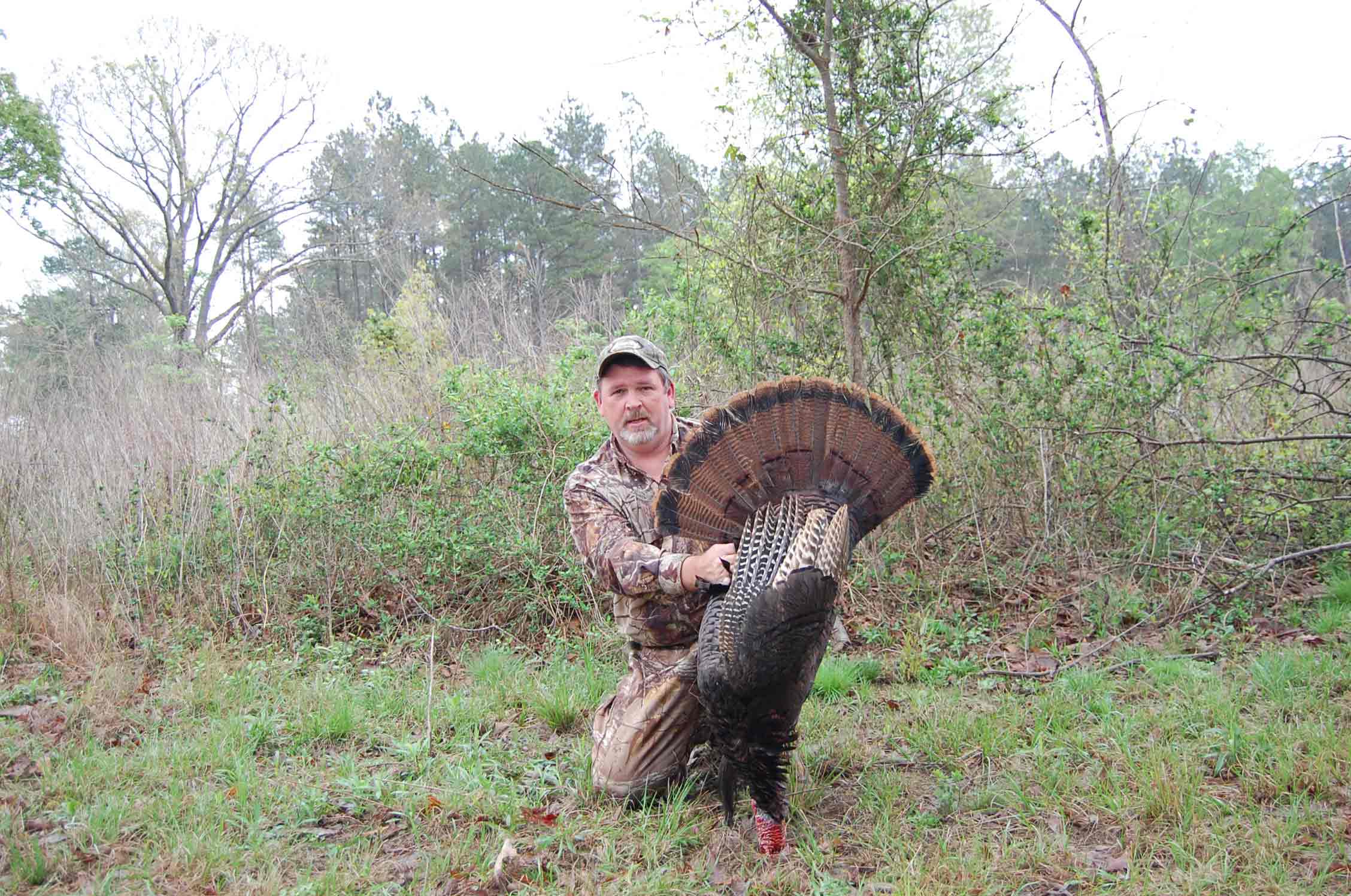 ---
APRIL 8, 2016 VIDEO HUNT #3
LOCATION: MONROE COUNTY, PRIVATE LAND
PARTNER: ALONE
AM HUNT CALLED IN 1 GOBBLER
I had made about 10 hunts with no luck and would hunt for myself on this morning on some private land so I took the bow and arrow. The first bird to gobble was behind me and definitely within calling range. There were a couple other gobbles in the distance but nothing close. I called very little but definitely had the gobbler answer so I stopped calling to see what the bird would do. In no time he entered the field to my left and slowly made his way to the first decoy which was a hen. My plan was to try and shoot him at the jake decoy but he didn't seem to care about the jake decoy who wasn't presenting him any challenge. I watched him for 23 minutes and finally decided to take a shot out at the hen decoy. I had problems in the last few turkeys I shot knowing exactly where to aim and had kept hearing successful hunters say to shoot them just above the drumstick. I had this in mind when I released the arrow, but it was a bit too low and forward. The gobbler tumbled and ran a short distance and stopped. As I reached and knocked another arrow he regained his awareness and started to move back to my left. I released another arrow making a good shot on this attempt and the bird only went about 25 yards. Unfortunately I had left the video camera on auto focus (which I never do) and just before the shot the auto focus took over and started focusing on part of the blind. The gobbler weighed 18 lbs. had 1 inch spurs and a 10 inch beard. See the footage on my 2016 video.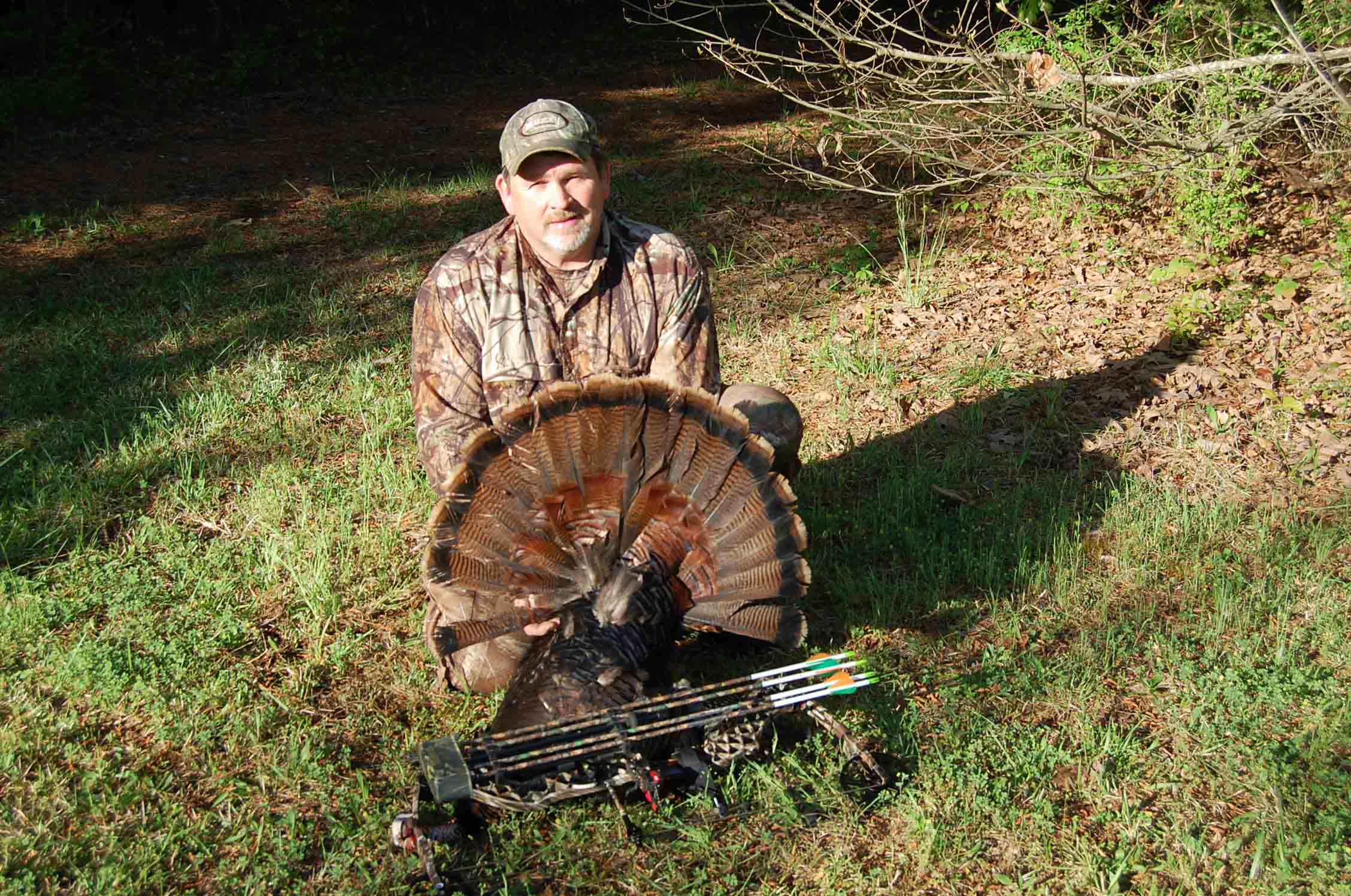 ---
APRIL 19, 2016 VIDEO HUNT #4
LOCATION: WILKINSON COUNTY, PRIVATE LAND
PARTNER: DAD
AM HUNT CALLED IN 1 GOBBLER AND 2 HENS
Dad and I would travel to a friend's land in Wilkinson County on this hunt. I had only made one hunt there which was the year before, but I knew the area was good for turkeys. We set up well before daylight and waited. As it started getting light we could see a wild hog across a fence line in front of us. We also heard a gobble which appeared to be inside the woods to our left a couple of hundred yards. The hog came across and right past our decoys. Dad thought about a shot as he seemed to be headed toward the gobbler. I knew it would end the turkey hunt and figured the hog would go behind us into the thick pine thicket so we held tight. After a while longer the first birds to fly into the field were hens. Eventually the gobbler pitched down. Obviously we were mistaken at how far the bird was as he couldn't have been over 30 or 40 yards from the edge. The gobbler hung up at the woods edge about 125 yards. I continued soft calling to the hens and they eventually came our way. The gobbler finally gave in and started our way. As soon as he saw the decoys he made a bee line and Dad wasted no time letting him get too close and to the Avian decoys. The gobbler weighed 21 lbs. 5 oz., had 1 inch spurs and a 10 inch beard. See the footage on my 2016 video.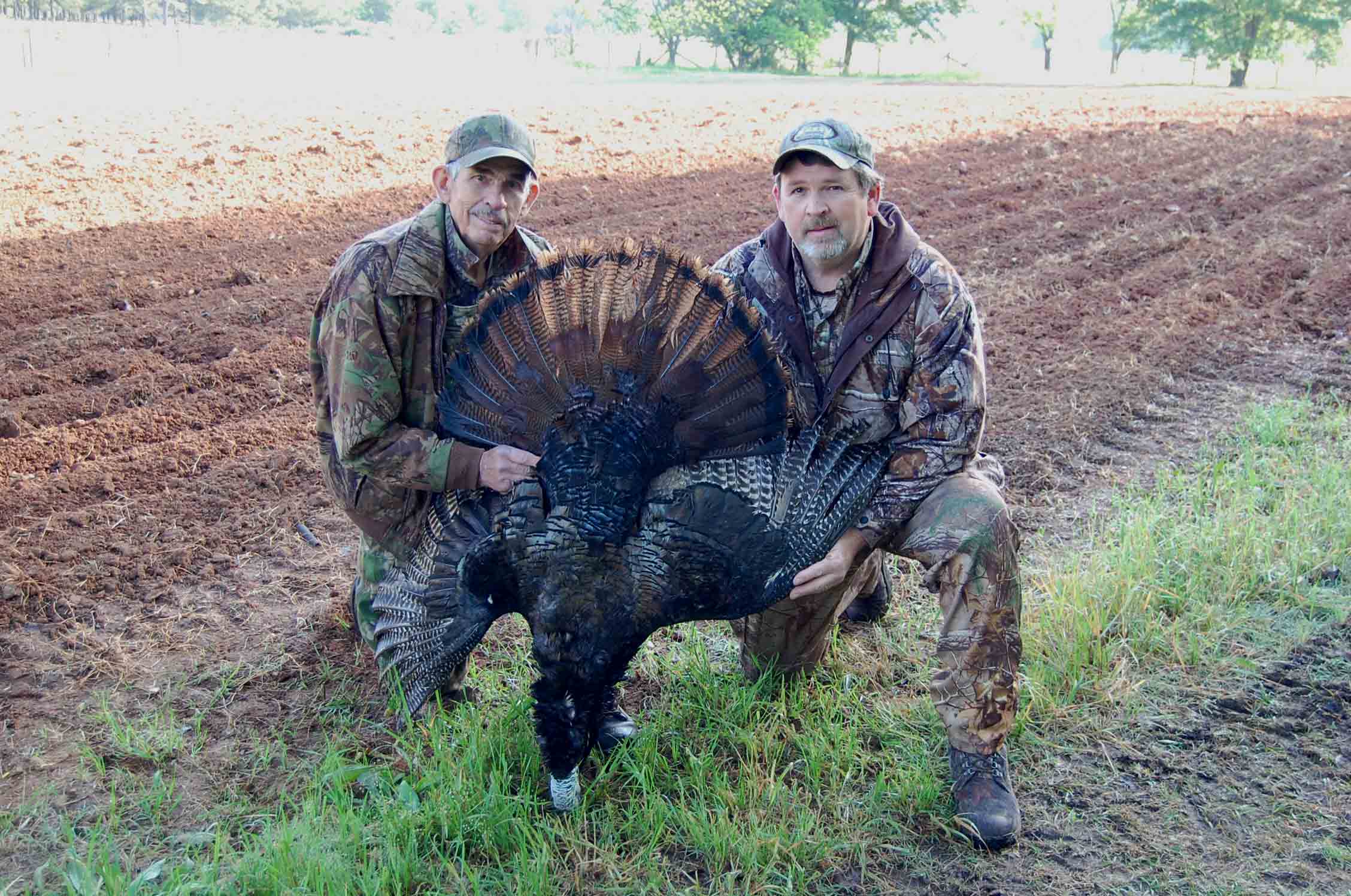 ---
APRIL 23, 2016 VIDEO HUNT #5
LOCATION: MONROE COUNTY, PRIVATE LAND
PARTNER: DAD
PM HUNT CALLED 1 GOBBLER AND 1 HEN
Dad and I set our blind in the same location as I had on my morning I made my bow kill. I had previously heard a couple more gobblers so I knew there was another gobbler to be hunted. We heard a distant gobble but it was about 10:00 when we finally spotted a gobbler in the field. He made his way to what was apparently his strut zone and would never come any closer. We saw the hen and could not get her to come our way. The gobbler eventually left the field after a couple of hours. We decided to move and set up within range of the strut zone. We moved the blind and decoys across the field about 150 yards and set up for the evening hunt. About an hour or so after settling down we saw the hen come back and soon after the gobbler came out from the upper end and where we had last saw him leave. He inched his way and eventually made his way to the decoys. This time I told Dad to let him come all the way and enjoy the show. He eventually acted like he was going to get nervous so Dad took the shot. The gobbler weighed 21 ½ lbs., had 1 inch spurs and a 10 inch beard. See the footage on my 2016 video.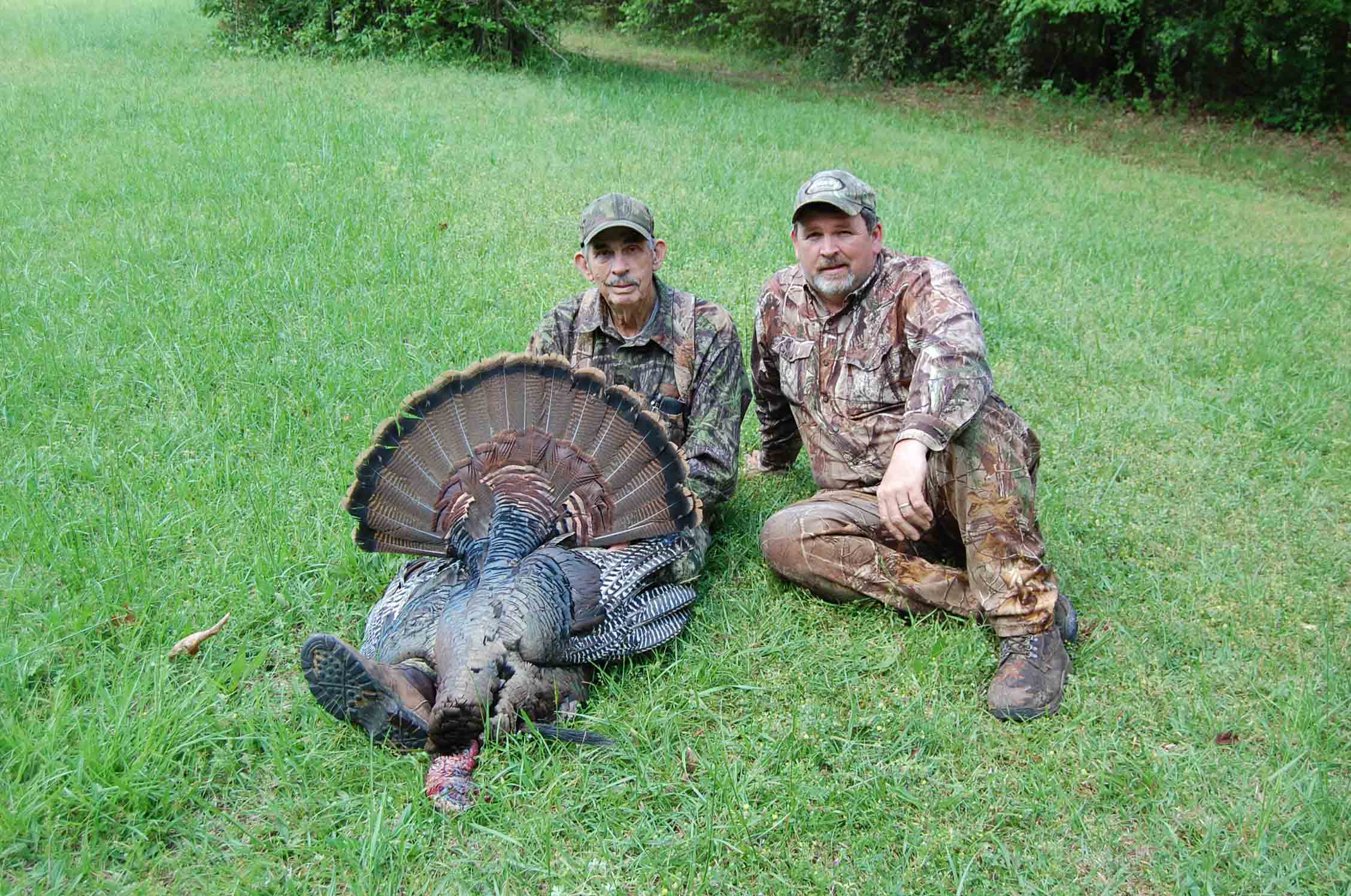 ---
MAY 1, 2016 VIDEO HUNT #6
LOCATION: TWIGGS COUNTY, PRIVATE LAND
PARTNER: ANDREW SHULTZ
AM HUNT HEARD 2 GOBBLERS AND SAW BEAR
Andrew Shultz and I would set up on their private land in Twiggs County on this hunt. We heard a couple gobblers in the distance but nothing really close enough to call up. We did see a bear so I thought I would include it on my video. See the footage on my 2016 video.
---
MAY 4, 2016 VIDEO HUNTS #7
LOCATION: TENNESSEE, WMA
PARTNER: KEITH SMITH
AM/PM HUNT SEEN 5 GOBBLERS, 8 JAKES AND 4 HENS
Keith Smith and I made our way back to Tennessee and to the WMA we had both killed a gobbler at the year before. As daylight approached we could hear numerous gobblers all around. We had pretty much planned to sit and watch the big field all day but didn't think it would take that long. The first birds to show came from our back left side. I could lean out and look to see 2 gobblers and 2 jakes. I told Keith we could just sit tight and they would eventually make their way to the decoys. After about 10 minutes they hadn't shown so I leaned out again and only saw the 2 jakes and they were running back to the woods. In disbelief we sat back and wondered if the decoy setup spooked them. In a short while we saw what spooked them and it was two large tractors preparing the field to plant. We talked to the ranger and he assured us as soon as they left we would see birds and we agreed so we sat back and napped. About an hour or so after they left we had thoughts of leaving. Keith stepped out of the blind where he could see more of the field. He immediately saw a strutting bird in front of us at less than 150 yards. Of course the gobblers had hens and we could only try calling the hens and wait. We started watching the weather on our phone and knew it wouldn't be long until we would have showers. We debated whether to leave or stay and after seeing more turkeys we elected to stay. We know before we could get our gear and get out we would be soaked anyway so we hoped the lightening would be at a minimum. The first storm passed and we thought we would be good. The birds would surely stay out in the field now it would just be a matter of getting them to come close enough for a shot. An hour or so passed and we saw the gobbler several hundred yards across the field but they were moving closer. Again, we looked at our phone weather app and saw there was another storm coming. This one appeared to be much more intense. Again, we elected with 3 large gobblers in the field to sit tight and take our chances. The birds had made their way to about 150 yards when the rains came. It was raining so hard you could hardly see past the gobblers. They stayed as long as they could but finally took to the woods. Unfortunately they took the route not in our direction. This was some of the most intense and interesting video to say the least! Did I mention that I love my Double Bull Blind!!! See the footage on my 2016 video.
---
MAY 6, 2016 VIDEO HUNT #8
LOCATION: TENNESSEE, AEDC
PARTNER: KEITH SMITH
PM HUNT – CALLED IN 1 GOBBLER AND 2 JAKES
Keith Smith and I would hunt again on the WMA and on some private land the next day with no luck. On this day we hunted the AEDC and after not hearing anything at daylight called for a while in a couple of different spots before we elected to go and sit it out on a gas line. While we were searching for a good video spot on the gas line we spotted a turkey and slipped back in the woods and backed down a ways to set up. We set up and carefully slipped a decoy a few feet out beyond our blind. A few calls and we spotted a couple of jakes. Then the gobbler came out of the woods and made his way on the far side of the gas line. As he started to go back into the woods Keith took the shot and our mini drought was over. The gobbler weighed 17 lbs. 4 oz., had 1 inch spurs and a 10 inch beard. See the footage on my 2016 video.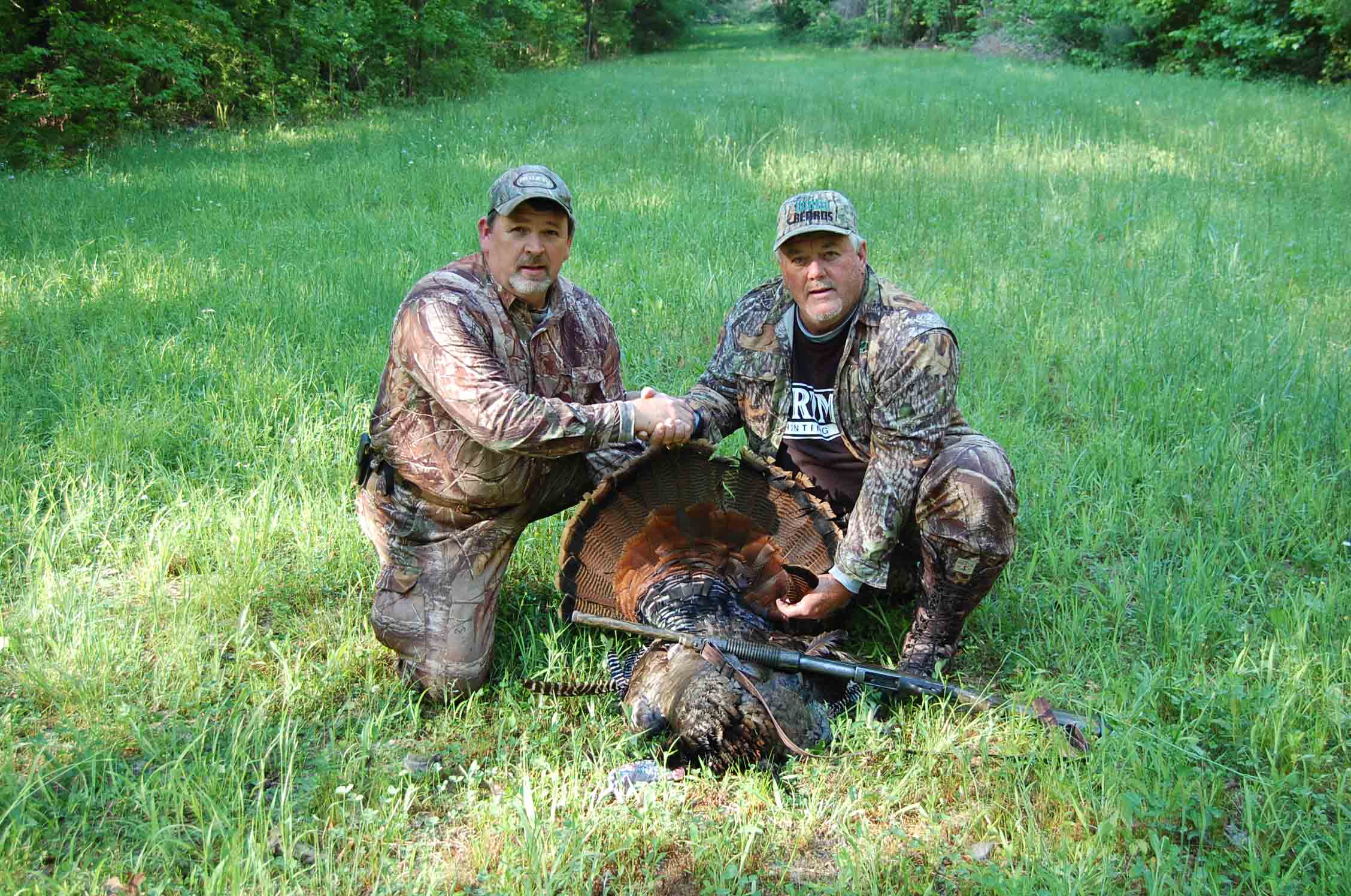 ---
THE END