TURKEY
HUNTING
VIDEO/HUNTS FOR 2018
BY
DEREK FOWLER
---
MARCH 29, 2018 VIDEO HUNT #1
LOCATION: WILKINSON COUNTY, PRIVATE LAND
PARTNER: DAD
AM HUNT IN 3 HENS, 1 JAKE AND 2 GOBBLERS
Dad and I would hunt some private land in Wilkinson County this day after being unsuccessful on opening day of the Georgia Turkey Season. Before we could get set up good, the first hen had flew down in the field. As we glassed the wood line we could see 2 hens a jake and 2 gobblers. The first and closest gobbler was obviously not going to leave the hens but as the gobblers got closer to each other the first gobbler ran the second gobbler away. Eventually the hens jake and first gobbler would leave and we saw the second gobbler come back out farther up the wood line. He slowly made his way across the field and gave us a good show when he reached the decoys. Dad took the bird as he finally started to move away. The gobbler weighed 20 lbs. 12 oz., had 1 ¼ inch spurs and a 9 ½ inch beard. See the footage on my 2018 video.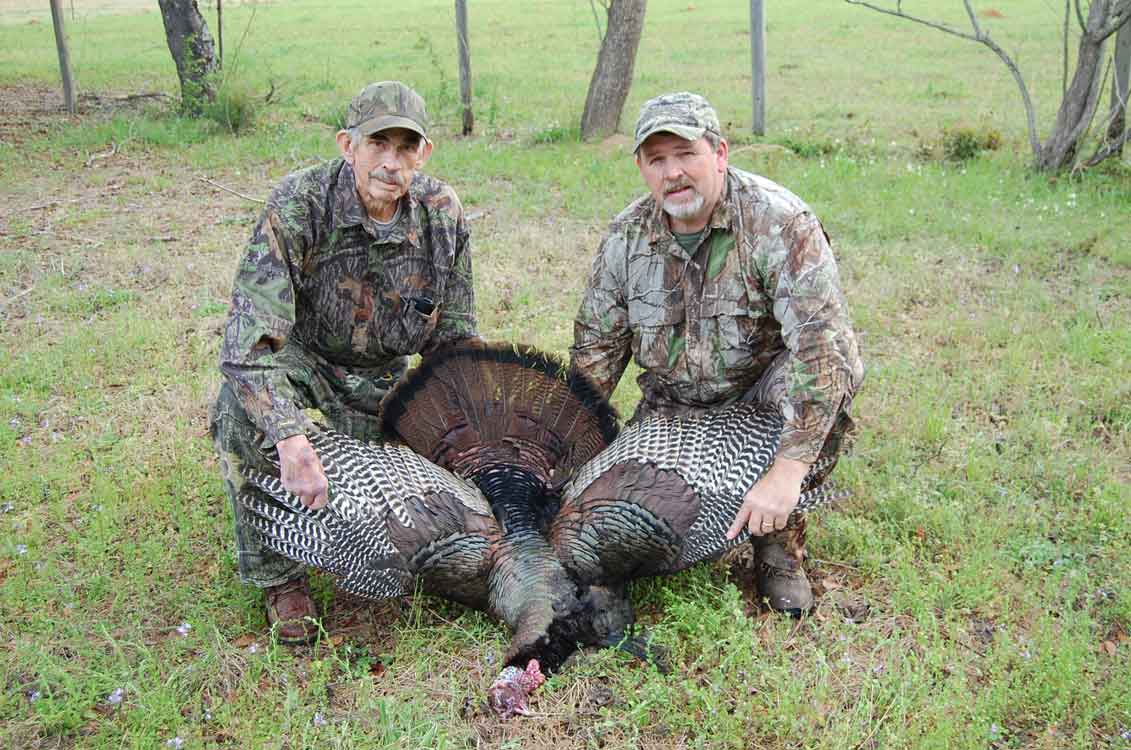 ---
MARCH 30, 2018 VIDEO HUNT #2
LOCATION: JASPER COUNTY, PRIVATE LAND
PARTNER: DAD
AM HUNT 1 HEN AND 1 GOBBLER
Dad and I would make our way to Jasper County on this hunt. We heard 1 gobble after daylight but he wasn't very close. He gobbled only a few times. We saw a hen after a while and after she came through we heard the gobbler again. We weren't sure of the direction and eventually could tell he was behind and to our left. He came in and became love struck with the Avian hen decoy. I could tell he was only two year old and really did not plan to take him. He finally left the hen decoy and made his way to the Avian Jakes. I had decided by this time to get check my new Benelli 20 gauge out and to get a kill for the video and took the shot when he moved far enough away from the decoys. The gobbler weighed 18 lbs., had 3/4 inch spurs and a 9 inch beard. See the footage on my 2018 video.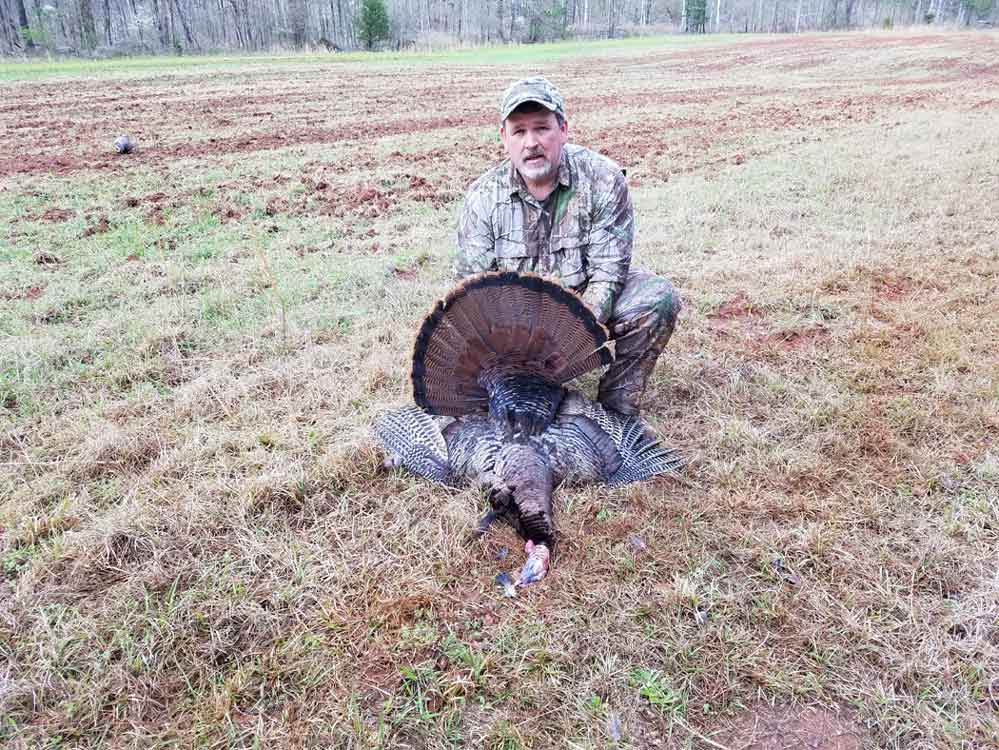 ---
April 7, 2018 VIDEO HUNT #3
LOCATION: TWIGGS, PRIVATE LAND
PARTNER: CHASE
AM HUNT 1 HEN, 1 JAKE AND 1 GOBBLER
Chase and I would hunt some private land in Twiggs County this morning. The land had been clear cut and there was rain on the way which would make an excellent choice to catch the birds in the open. We never heard a gobble but about 10:00 it started to drizzle a bit and soon after we finally saw a hen out in the clear cut. A bit later a jake came across to our decoy set up but went back to the hen. Then we saw the Gobbler strutting out at about 75 yards. He would never get any closer but we enjoyed the challenge of trying to get him and the hens to come in. See the footage on my 2018 video.
---
APRIL 7, 2018 VIDEO HUNT #4
LOCATION: WILKINSON COUNTY, PRIVATE LAND
PARTNER: LEIGH COOK
PM HUNT 2 HENS AND 2 GOBBLERS
Chase and I left the previous hunt at about noon but I knew the rainy afternoon could still be a good bet to catch a gobbler in a plot or field. I called David Cook to see if his wife Leigh was ready to get her first Gobbler. We were a little concerned about the weather but decided to go anyway. The double bull blind would keep us dry as long as the weather didn't get too rough. As we entered the plot we glimpsed what appeared to be a Gobbler and 2 hens slip away. We paused and gave them time to leave and settle down before we made out way to set up the blind and decoys. We then waited another half hour before making a few calls. Then the rains came or rather "monsoon"! I zipped the windows up in the blind enough to keep the rain from coming in but to leave enough to see out to the decoys. After a few minutes the heavy rain seized a bit and that's when I looked out to see a gobbler headed straight to the Avian decoys. I told Leigh to ease her gun up but to let the gobbler get farther away from the decoys before shooting. I had set the decoys out a bit too close at a little less than 20 yards. This was fine with a bow but for Leigh's first turkey it was a bit too close. When she took the shot it was a clean miss. When the bird started to walk away I told her to shoot again, but the empty shell had jammed coming out of the chamber. By the time she chambered another roung the bird was about 40 to 45 yards which was still in range for the second shot which she made good. The gobbler weighed 19 lbs. 4 oz., had 3/4 inch spurs and a 9 1/2 inch beard. See the footage on my 2018 video.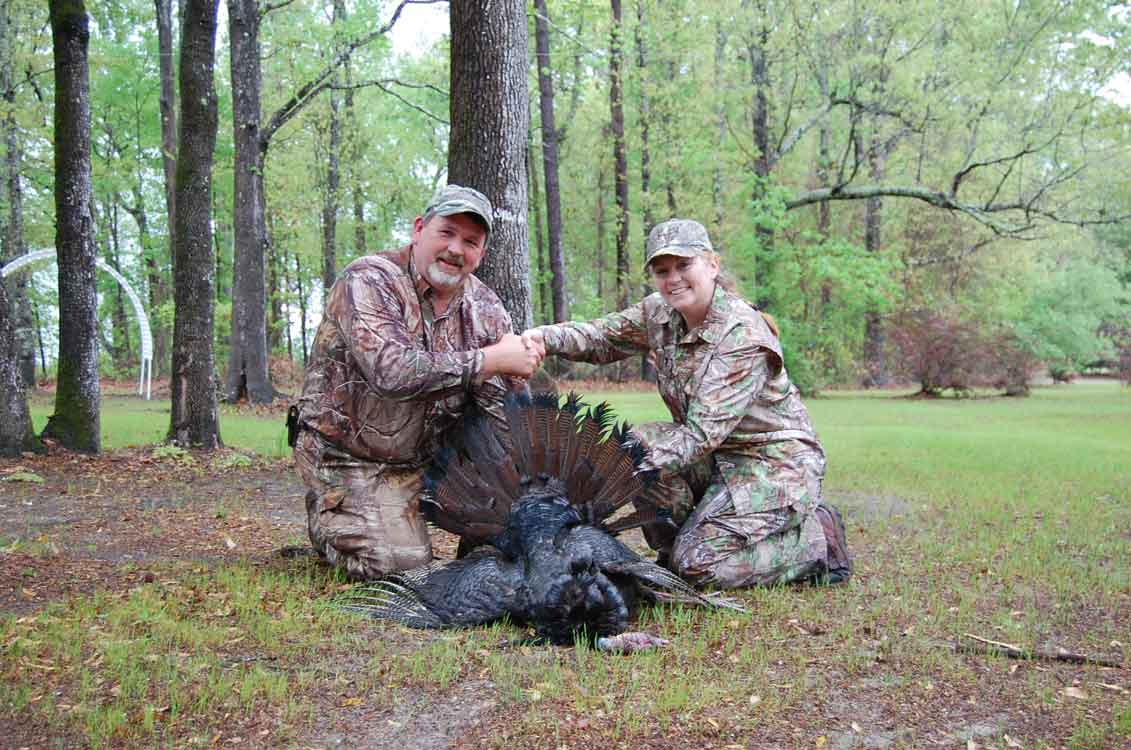 ---
APRIL 12, 2018 VIDEO HUNT #5
LOCATION: BALDWIN COUNTY
PARTNER: DWAYNE MORGAN
AM HUNT 3 JAKES
I finally was able to coordinate a hunt with a good friend Dwayne Morgan on this hunt. Dwayne had seen numerous gobblers during the previous deer season and had many on his trail cameras and had been waiting on me to try and call and video a kill. We set up well before daylight on a small food plot surrounded by mixed pine and hardwoods. There was no gobbling after daylight which left us a bit rejected, but we knew there were gobblers in hearing range. Nearly a couple of hours had passed when we finally heard a gobble to our left. A little more calling and we could tell there were two that gobbled. Both sounded like mature gobblers so I also got ready to shoot in case there were. When they arrived it was three of the best sounding jakes you'll ever hear. See the footage on my 2018 video.
---
APRIL 17, 2018 VIDEO HUNT #6
LOCATION: TENNESSEE WMA
PARTNER: KEITH SMITH
AM HUNT 5 HENS, 9 JAKES AND 1 GOBBLER
Keith Smith and I would travel to Tennessee again to try our luck on the WMA during the middle of the week when we thought it was least hunted. We were all set up a daylight and then caught a glimpse of a hunters red light coming down the road we had walked in on. He was several hundred yards away so I shined my green light back. He obviously saw it since he stopped for several minutes. Seeing that we had set up in the corner we hoped he would go the other way but unfortunately he didn't. In fact he crossed the large field and went into the woods where we had expected the turkeys to come from. A little beside ourselves we decided to wait it out and see what happened so we didn't call a bit for over an hour. We saw a couple of hens come out where he had went in so we figured he had went far enough to be out of our zone. We eventually saw a gobbler come out but could tell he was spooked and would have nothing to do with the soft calling we were trying to coax him in with. We ended up seeing 5 hens, 9 jakes and that 1 uncooperative gobbler. See the footage on my 2018 video.
---
APRIL 21, 2018 VIDEO HUNT #7
LOCATION: TENNESSEE PRIVATE LAND
PARTNER: JOSH BYROM
AM HUNT 10 JAKES
Keith Smith, Ray Kelly and I would hunt with Ray's friend Josh Byrom for the next couple of days. Josh and I hunted the same location as the previous year and heard a couple of birds gobbling at daylight. After flydown it got rather quiet. After a couple of hours we called up 10 jakes which gave us some good video around the Avian decoys. See the footage on my 2018 video.
---
APRIL 27, 2018 VIDEO HUNT #8
LOCATION: WILKINSON COUNTY, PRIVATE LAND
PARTNER: ALONE
AM HUNT 2 HENS
It was starting to get late in the season at this time and I had only killed one gobbler. I figured I would hunt the private land in Wilkinson County that Dad had taken his gobbler on since there should be another good bird still there. At daylight a large hog made his way past me and almost tempted me for a shot. Needing to get more video footage I passed in hopes a gobbler would be nearby. It wasn't long til I saw a hen but there were no gobbles or gobblers to be seen or heard. The hen finally made her way over to me and the decoys and then passed on. Later another hen came out and displayed her act of breeding as she squatted several times for my jake decoys. This made for some excellent footage, but told me I was wasting my time waiting on a gobbler. See the footage on my 2018 video.
---
APRIL 28, 2018 VIDEO HUNT #9
LOCATION: TWIGGS COUNTY, PRIVATE LAND
PARTNER: ALONE
PM HUNT 1 JAKE AND 1 GOBBLER
On this day I thought I'd try the private land clear cut where Chase and I had the encounter earlier in the season. I would set up farther down the wood line where the birds had came from before, hoping they might make their way back if they were still roosting in the area. Decoy set up was not very good because I had to set them in the road which only had good visibility in one direction. I had not called any or very little when I saw a couple of turkeys on the far end of the clear cut. I glassed them and could tell they were gobblers. When I did call they responded and started coming my way. The birds had to come about 600 yards but once they started that way was in line with passing right by my location. Once they got within 50 yards they began to swing out but I knew they were in range. It appeared to be the jake and same gobbler Chase and I had worked on the previous hunt we had made. I readied the camera and took the shot with my Benelli at about 45 yards. No problem. I think I'm going to like this new gun and without the kick of my old 835 Mossberg! The bird only weighed 16lb. 6 oz., had 7/8 inch spurs and a 10 3/4 inch beard. See the footage on my 2018 video.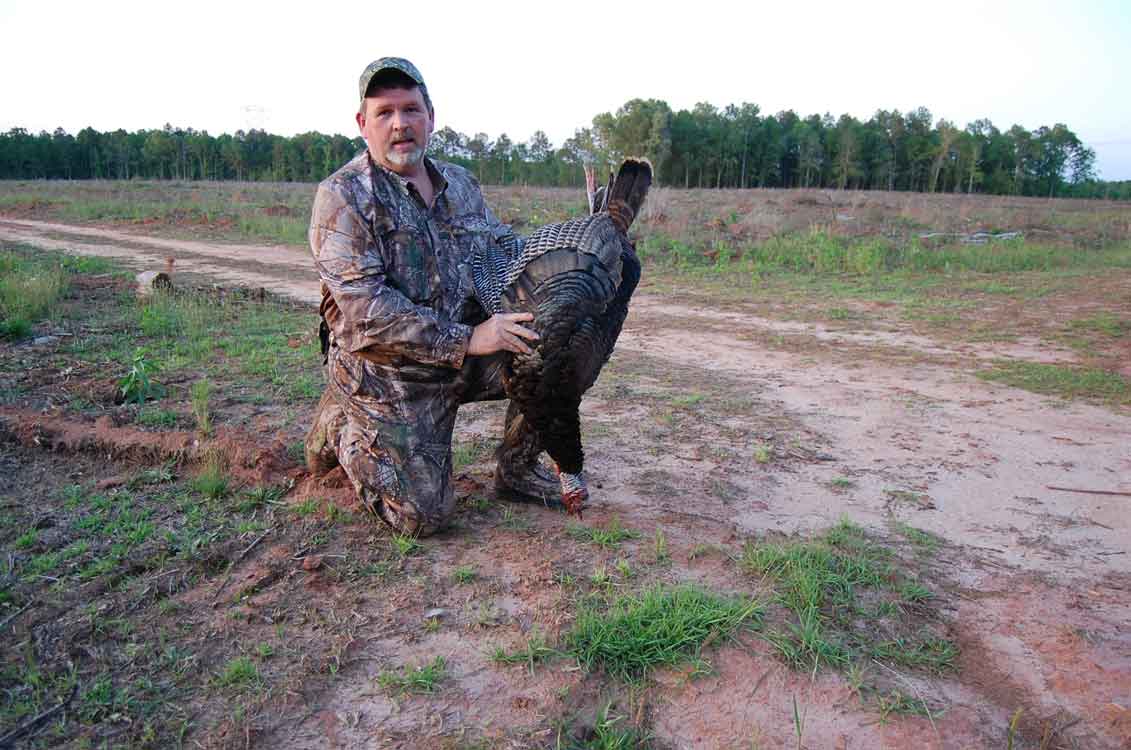 ---
MAY 5, 2018 VIDEO HUNT #10
LOCATION: BALDWIN COUNTY, PRIVATE LAND
PARTNER: CHASE
AM HUNT – CALLED IN 3 GOBBLER AND 1 HEN
Chase and I hunted Jasper County on this morning but after not hearing any gobbles we felt like the place to be was on our Baldwin hunting club so we left after a couple of hours. We made our way down to the first food plot hoping we wouldn't spook any birds there. When we got there we saw a bird running off but couldn't tell if it was a Gobbler or a Hen. We didn't feel this would be the best place to set up and call at this point so we elected to make our way around to the other plot which would be the direction this bird was headed and maybe after an hour or so we could call him in if it was a gobbler. I guess it was about 10 o'clock when we got set up. We waited a few minutes and felt it wouldn't hurt to give a few clucks and yelps. Less than 15 minutes there were 3 gobblers and a hen in front of us. The birds were in range for a long time but we only wanted to only kill 2 and also not shoot our decoys. Although the birds were in range they were inching beyond the hill top which was making it harder to see their beards. I told Chase before they got to a certain point to take one whether I killed one or not. The birds finally turned and separated so he could shoot one on one side of the decoys and I could shoot one on the other. My que was to shoot as soon as I heard Chase shoot. We executed it perfectly. Chase's gobbler only had one spur but was 1 1/8" The bird weighed 18lb. 1 oz., had a 10 1/4 inch beard. My bird weighed 19lb. 3 oz., had 3/4" and 7/8 "spurs and a 10 1/4 inch beard. See the footage on my 2018 video.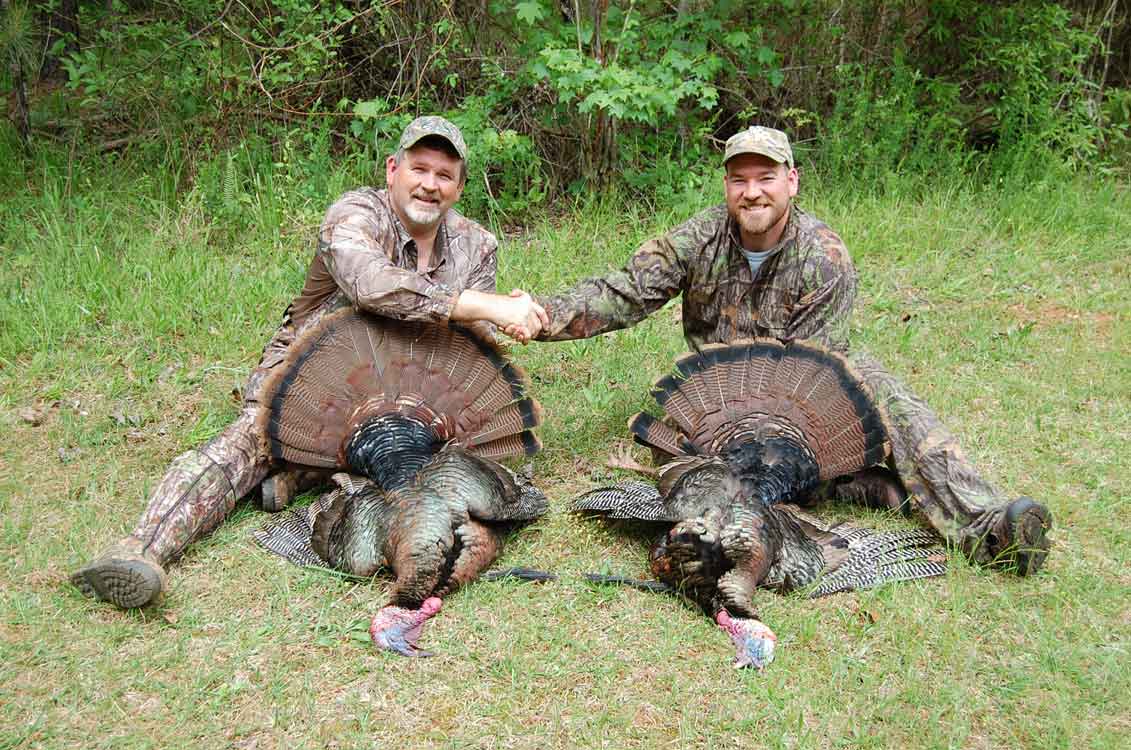 ---
THE END