FOWLERS CUSTOM STRIKERS
(Originally HAROLDS CUSTOM STRIKERS)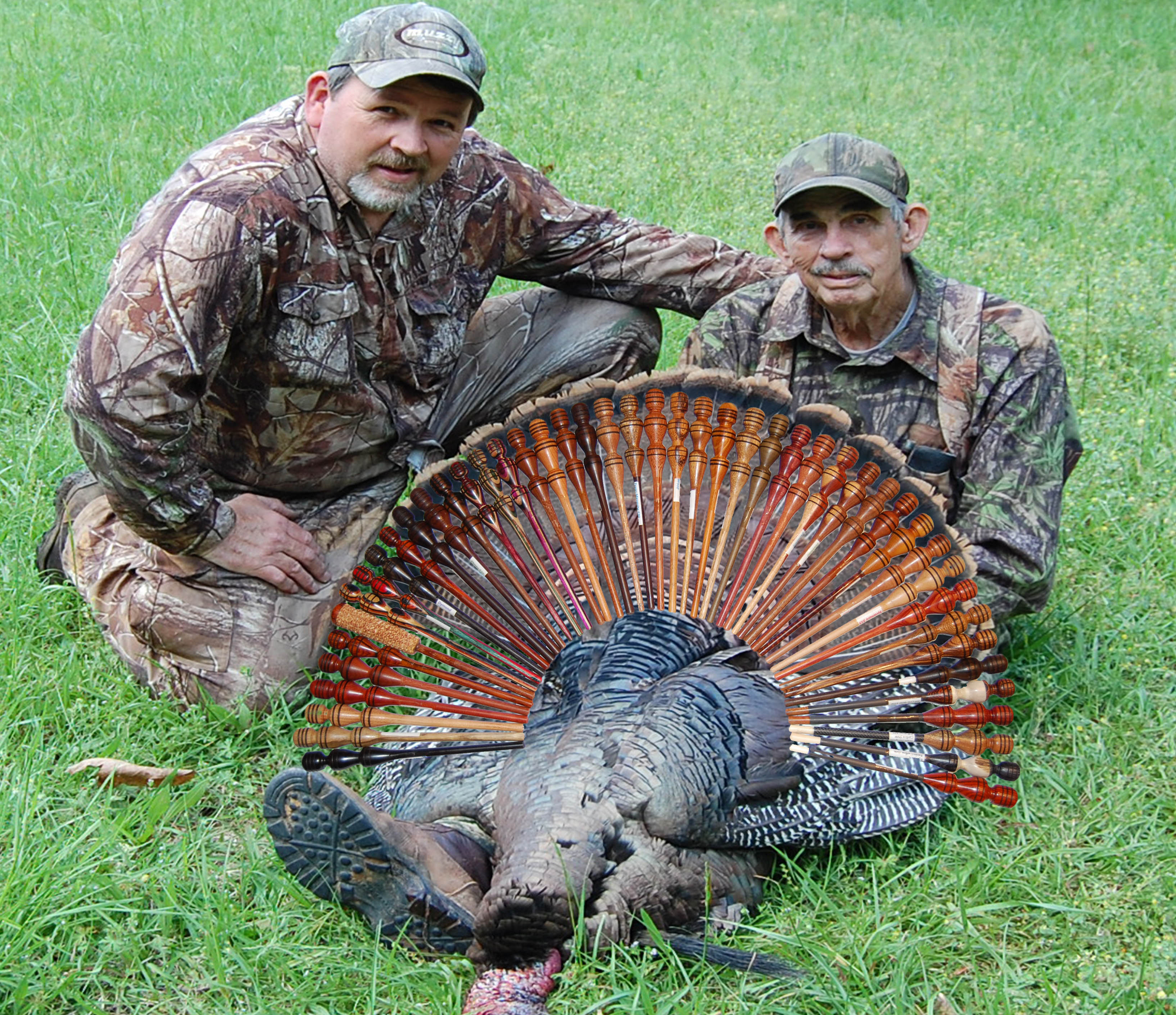 The List below are all the woods that my Dad was originally making strikers with. My Dad's inventory has now been depleted. This list may change as I move forward but I continue to try to maintain an inventory of at least one or two piece strikers in the majority of these woods. Please check the "INVENTORY" list and use the PayPal buttons at the bottom of this page to find your Striker wood selection. If you don't see a selection please let me know and I will revise my page or send you an invoice with your selections. I try to update the inventory status after every sale I make. As most know by now, my strikers are very similar to my Dad's with a change made to the ring pattern. I continue to build and keep a solid inventory of the most requested strikers but if there's something I don't have please let me know and I will try to build and work those in.

Below is the list of all woods and prices for the Two-Piece Strikers. When ordering Two-Piece Strikers, please indicate your wood choice for the top on the order sheet in comments. The available choices for tops will be listed in the inventory comments column.
Please go to this link for "One-Piece Strikers". (05/24/2022)

I typically ship USPS by small flat rate box. USPS current cost is $10.20. (1/23/2023)
---
If you have any trouble with the checkout and shipping for your order just send me an email with the items you wish to purchase and I'll create an invoice and send you. Please provide an email address or phone you can be reached at or leave a message as I may be in my shop and not hear my phone or recognize the number. (Too many Spam Calls these days!!!!) My contact info is: dfowler@fowleroutdoors.com or 478-278-9959
Fowler Two Piece
[D] Domestic

                

[E] - Exotic
African Blackwood [E]
$20.00
Dogwood (Jamaican) [D]
$20.00
Maple (Ambrosia) [E]
$20.00
Rosewood (Guyana) [E]
$20.00
African Iroko [E]
$20.00
Dymalux [E]
$25.00
Maple (Birdseye) [E]
$20.00
Rosewood (Honduran) [E]
$20.00
Alder [D]
$20.00
Frogwood [E]
$25.00
Maple (Curly) [E]
$20.00
Rosewood(Madagascar) [E]
$20.00
Almond (Tropical) [E]
$20.00
Dymond Wood [E]
$25.00
Maple (Hard) [E]
$20.00
Rosewood (Malaysian) [E]
$20.00
Apitong [E]
$20.00
Ebony (Brown) [E]
$20.00
Meranti [E]
$20.00
Rosewood (Milo) [E]
$20.00
Applewood [D]
$20.00
Ebony (Gaban) [E]
$20.00
Mesquite [E]
$20.00
Rosewood (Panama) [E]
$20.00
Ash [D]
$20.00
Ebony (Macassar)[E]
$20.00
Monkeypod [E]
$20.00
Rosewood (Para) [E]
$20.00
Beech [D]
$20.00
Ebony (Mun)[E]
$20.00
Mopane [E]
$20.00
Rosewood (Patagonian) [E]
$20.00
Beefwood [E]
$20.00
Elm [D]
$20.00
Myrtle Wood [E]
$20.00
Rosewood (Payung) [E]
$20.00
Black Limba [E]
$20.00
Goncalo Alves [E]
$20.00
"Mystery" Wood [E]
$20.00
Rosewood (Tiete) [E]
$20.00
Black Locust [D]
$20.00
Granadillo [E]
$20.00
Narra(Red) [E]
$20.00
Rosewood (Yucatan) [E]
$20.00
Black Palm [E]
$20.00
Green Heart [E]
$20.00
Olivewood
$20.00
Sapele [E]
$20.00
Bloodwood [E]
$20.00
Guarea [E]
$20.00
Osage Orange [E]
$20.00
Shedua [E]
$20.00
Bocote [E]
$20.00
Gum Red [D]
$20.00
Padauk [E]
$20.00
Snakewood (Excellent Figure)[E]
$45.00
Brazillian Chestnut(Red) [E]
$20.00
Hickory [D]
$20.00
Pau Ferro [E]
$20.00
Snakewood (Some Figure)[E]
$35.00
Brown Heart [E]
$20.00
Hollow Bone [D]
$20.00
Pau Rosa [E]
$20.00
Snakewood (Little or No Figure)[E]
$25.00
Bubinga [E]
$20.00
Honey Locust [D]
$20.00
Pernambucco [E]
$20.00
Southern Red Cedar [D]
$20.00
Bullet Wood
$20.00
Ipe [E]
$20.00
Persimmon [D]
$20.00
Sparkleberry [D]
$20.00
Burmese Blackwood [E]
$25.00
Jatoba [E]
$20.00
Pheasant Wood [E]
$20.00
Sycamore [D]
$20.00
Camel Thorn (Tip Only) [E]
$20.00
Katalox [E]
$20.00
Photenia [D]
$20.00
Tambootie [E]
$20.00
Camel Thorn (Whole Stem)[E]
$25.00
Kikar(from India)[E]
$20.00
Pink Ivory [E]
$20.00
Tulipwood (Some Figure) [E]
$20.00
Canarywood [E]
$20.00
Kingwood (Brazil)[E]
$20.00
Plum [D]
$20.00
Tulipwood (Excellent Figure) [E]
$25.00
Congona[E]
$20.00
Knobhorn [E]
$20.00
Poplar [D]
$20.00
Walnut [D]
$20.00
Chakte-kok [E]
$20.00
Koa [E]
$20.00
Purple Heart [E]
$20.00
Wawabima [E]
$20.00
Chakte-viga [E]
$20.00
Lacewood [E]
$20.00
Quebracho [E]
$25.00
Wenge [E]
$20.00
Chechen [E]
$20.00
Leadwood [E]
$20.00
Rhodesian Teakwood [E]
$20.00
Wingbones

 

$20.00
Chico Zapote [E]
$20.00
Lignum Vitae
$20.00
Rosewood (Amazon) [E]
$20.00
Yellow Heart [E]
$20.00
Cocobolo [E]
$20.00
Live Oak/Red Oak [D]
$20.00
Rosewood (Bolivian) [E]
$20.00
Yew [E]
$20.00
Corn Cobs [D]
$20.00
Mahogany [E]
$20.00
Rosewood (Burmese) [E]
$20.00
Zebrawood [E]
$20.00
Cumaru [E]
$20.00
Manchichi [E]
$20.00
Rosewood (Cloverleaf) [E]
$20.00
Ziracote [E]
$20.00
Desert Ironwood [E]
$25.00
Mango [E]
$20.00
Rosewood (East India) [E]
$20.00
Code - $20
Code - $35
Code - $25
Code - $45
<![if supportMisalignedColumns]> <![endif]>
Return to Home Page